Road Closures Due to El Portal Fire

The Big Oak Flat Road between Crane Flat and the El Portal Road is temporarily closed. There is no access to Yosemite Valley via the Big Oak Flat Road or Highway 120. Tioga Road is open and accessible via Big Oak Flat and Tioga Pass Entrances. More »
Campground Closures Due to Fire

Crane Flat, Bridalveil Creek, and Yosemite Creek Campgrounds are temporarily closed. More »
Yosemite National Park is Open

Yosemite Valley, Glacier Point, and Wawona/Mariposa Grove areas are open and accessible via Highways 140 and 41. Tioga Road is not accessible via Highways 140 and 41 due to a fire.
Mariposa Grove of Giant Sequoias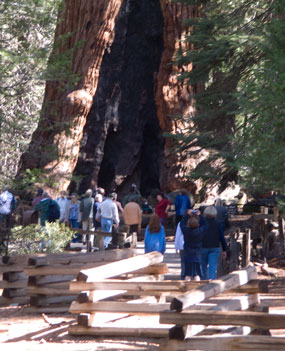 The Mariposa Grove, near Yosemite's South Entrance, contains about 500 mature giant sequoias. Giant sequoias are perhaps the largest living things on Earth.
Although the oldest giant sequoias may exceed 3,000 years in age, some living specimens of the ancient bristlecone pine (found in the
mountains east of Yosemite
and at
Great Basin National Park
in Nevada, among other places) are more than 4,600 years old.
The tallest trees are the giant sequoia's cousin—the coast redwood, which you can see at
Muir Woods National Monument
and
Redwood National Park
, among others.
To get there:
The two-mile Mariposa Grove Road is open from approximately April through November. When open, you can drive to the grove from Yosemite's South Entrance (off of Highway 41). During summer, however, the small parking lot fills frequently, resulting in periodic road closures. So, it's best to take the free
Wawona-Mariposa Grove shuttle
.
When the road is closed during winter, you can still walk, snowshoe, or ski up the road from South Entrance (two miles with about 500 feet of elevation gain).
What to do:
Once in the Mariposa Grove, you can hike to see more sequoias than those visible from the parking lot. A brochure (available for 50 cents in the grove or for
free download
[256 kb PDF]) has a map. Most people hike the 0.8 miles from the parking lot to the Grizzly Giant and California Tunnel Tree (about 500 feet of elevation gain).
A
one-hour tram tour
is also available from approximately May to October. This tour is available in English, French, Spanish, Japanese, German, and audio description (for the blind).
Accessibility:
People with mobility impairments may drive their own vehicles on the tram road through the grove behind tram tours for free (coordinate with the tour kiosk). People driving behind the tram can pay for the tour in order to listen to the audio tour (also available in audio description for the blind). You can find more information about accessibility in Yosemite's
accessibility guide
[200 kb PDF].
Brochures containing natural history and hiking information:
Did You Know?
That Yosemite National Park has a sister park in Chile? Parque Nacional Torres del Paine is located among the breath taking scenery of Patagonian Chile. Both parks feature remarkable geology, hydrology, flora and fauna--together the staff of both parks work together to share best practices and care for these landscapes so generations of visitors can revel in their stunning beauty.