Yosemite Valley Loop Trail
Enjoy some solitude in western Yosemite Valley. Hike through meadows, forests, and beside the Merced River. Along the way, enjoy striking views of Sentinel Rock, Cathedral Rocks, Bridalveil Fall, El Capitan, Three Brothers, Yosemite Falls, and more.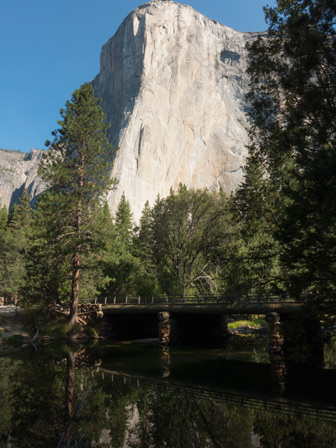 Trail Overview
Distance: 11.5 mi (18.5 km) full loop; 7.2 mi (11.6 km) half loop
Elevation gain: Mostly level
Difficulty: Moderate
Time: 5-7 hours full loop, 2.5-3.5 hours half loop
Begin at: Lower Yosemite Fall (shuttle stop #6) [head west along the bicycle path until you see signs for the Valley Loop Trail]
This trail follows many of the Valley's first east-west trails and wagon roads. It offers a rare opportunity in Yosemite Valley: to hike on a fairly level trail with some solitude. While some of the trail passes near roads, much of it takes you through meadows, talus slopes at the base of the granite cliffs, and near the Merced River. You can access the trail from many places throughout the Valley; however, the mileage and description used here starts at the Lower Yosemite Fall area (follow signs for Valley Loop Trail). Route-finding can be difficult in places, so it is best to bring a map with you (even a simple day hiking brochure from the visitor center) as it will orient you with the various landforms in the Valley, which are often listed on the trail/directional signs.
From the Lower Yosemite Fall area, head west along the base of the Three Brothers rock formation, past Camp 4, eventually working your way through Yosemite Valley to El Capitan. If you are planning to hike the half loop, cross the Merced River at El Capitan Bridge and continue by heading east back toward Yosemite Village. If you are planning to hike the full loop, continue west past El Capitan toward Bridalveil Fall. While most of the trail is flat, there are some hilly sections throughout the hike. Additionally, you will find mixed trail surfaces: dirt, rocks, sand, and old pavement.
Seasonality
The Valley Loop Trail is open year-round. During spring, you may find localized flooding on the trail near creeks. During winter, the trail is often snowy and icy in places, particularly along the south side of Yosemite Valley. In these areas, use extreme caution as it may be hard to get traction on ice and route-finding may be difficult in snowy areas (the trail may be completely obscured by just a few inches of snow).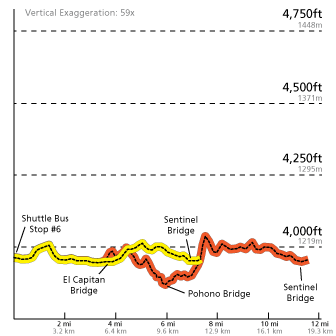 Stay Safe
Plan ahead; stay hydrated by carrying plenty of water as no drinking water is available along the trail.
Wear appropriate footwear for a long hike over varying terrain.
Water
Drinking water is not available along the trail. A drinking fountain is available at the start of the trail near the Lower Yosemite Fall Trailhead.
Restrooms
Restrooms are available at the trailhead near the start of the Lower Yosemite Fall Trail. Vault toilets are also available at the Bridalveil Fall parking area and Swinging Bridge Picnic Area.
Parking
Parking is not available at the trailhead; the trail begins at the Lower Yosemite Fall Trailhead (near shuttle stop #6). Primary parking is available at the day use parking area in Yosemite Village. You can also access the trail from various roadside parking areas throughout Yosemite Valley.
Transportation
The Valley Visitor Shuttle (7 am to 10 pm year-round) serves this trailhead (stop #6). You can also walk from the Yosemite Village area along the bicycle path to get to the trailhead (this adds approximately 0.5 mile (0.8 km) to your hike). From May to October, the El Capitan Shuttle stops at the El Capitan Bridge (stop E4) and the Four Mile Trailhead (stop E5), should you need alternate transportation back.
Trail Etiquette
Pets, bicycles, and strollers are prohibited. Keep your food within arm's reach at all times and do not feed the wildlife. Carry out all trash and food waste (fruit peels, shells, etc.).
Did You Know?

Yosemite Conservancy's signature project in 2014 is Youth In Yosemite. This project encompasses 12 youth programs that focus on education, mentoring, and wilderness exploration. Including in this is the junior ranger program, a program that benefits over 27,000 children annually. More...