Big Oak Flat Road is closed; no access to Yosemite via Highway 120 from the west

The Big Oak Flat Road is temporarily closed west of Crane Flat; there is no access to Yosemite via Hwy 120 from the west (except to Hetch Hetchy). Tioga Road is open and accessible if entering the park via Hwys 41 and 140, and Hwy 120 from the east. More »
Campground Closures Due to Fire

Crane Flat, Bridalveil Creek, and Yosemite Creek Campgrounds are temporarily closed. All other campgrounds, including Hodgdon Meadow, are open. More »
Giant Sequoias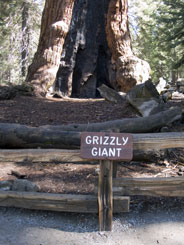 Massive, ancient giant sequoias live in three groves in Yosemite National Park. The most easily accessible of these (spring through fall) is the Mariposa Grove near the park's South Entrance, off of the Wawona Road (Highway 41). Two smaller—and less visited—groves are the Tuolumne and Merced Groves near Crane Flat.
The Mariposa Grove Road is closed to cars approximately November to April, depending on conditions. You can hike up the two-mile road (500 feet of elevation gain) when it is closed (the road may be snowy or icy). Sequoias are visible from the parking lot and a tram tour is available from approximately May to October. (Learn more about the Mariposa Grove...)
No roads enter the Tuolumne or Merced Groves; two to three miles of hiking (about 500 feet of elevation gain) is required before you will see giant sequoias.
Did You Know?
Yosemite and Huangshan are sister parks. Huangshan, which protects over 77 magnificent granite peaks 3,000 feet (1,000 m) or higher, is one of China's most famous and sacred scenic areas. Countless poems and writings dating back 2,200 years attest to its beauty. More...