Tioga & Glacier Point Roads Closed for the Winter

The Tioga Road (Highway 120 through the park) and Glacier Point Road are closed due to snow; they usually reopen late May or June. You can check on current road conditions by calling 209/372-0200 (press 1 then 1). More »
Giant Sequoias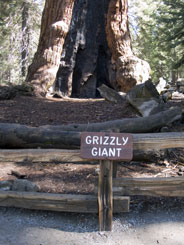 Massive, ancient giant sequoias live in three groves in Yosemite National Park. The most easily accessible of these (spring through fall) is the Mariposa Grove near the park's South Entrance, off of the Wawona Road (Highway 41). Two smaller—and less visited—groves are the Tuolumne and Merced Groves near Crane Flat.
The Mariposa Grove Road is closed to cars approximately November to April, depending on conditions. You can hike up the two-mile road (500 feet of elevation gain) when it is closed (the road may be snowy or icy). Sequoias are visible from the parking lot and a tram tour is available from approximately May to October. (Learn more about the Mariposa Grove...)
No roads enter the Tuolumne or Merced Groves; two to three miles of hiking (about 500 feet of elevation gain) is required before you will see giant sequoias.
Did You Know?
In March 1987, the largest historical rockfall in Yosemite National Park deposited an estimated 1.5 million tons of debris at the base of Three Brothers, closing Northside Drive for several months.