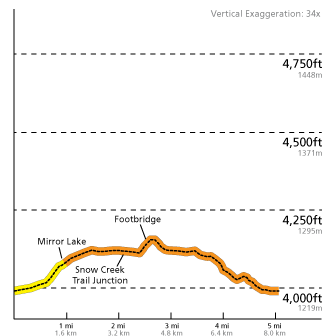 Stay Safe
Be aware of slick conditions along the south side of this loop trail during winter and early spring. With few natural barriers to hold onto or to brace yourself, it is fairly easy to slip and fall. This section of trail often remains covered in snow and ice, even when the north side of the loop is snow-free. When winter conditions exist, consider making an out and back trip along the north side of the loop.
Stay on the trail! This is especially important during spring and early summer when water levels are highest. When hiking on the south side of the loop, hikers often spot what appears to be an easy way to rock-hop across Tenaya Creek, either just for fun, or as a way to shortcut the loop and rejoin the trail without doing the entire loop. While this crossing is only ankle deep at first, it quickly becomes thigh deep, and, all too often, hikers are swept into dangerous whitewater and pinned against rocks. Don't be tempted to leave the trail, and always remember when approaching moving water to look at the conditions downstream.

Watch our preventive search and rescue/swiftwater videos to learn more about past experiences visitors had in this area of the park.
Water
Drinking water is not available at the trailhead or along the trail. Come prepared, and if you opt to extend your hike to travel the full Mirror Lake Loop or up the Snow Creek Trail, plan accordingly.

Restrooms
Vault toilets are available about 0.5 miles (0.8 km) from the trailhead and also 1 mile (1.6 km) from the trailhead at the end of the paved service road at Mirror Lake. There are no additional restrooms along the trail.
Parking
Parking is not available at the trailhead. The nearest parking area is at Curry Village, though you can easily access the trail by parking anywhere in eastern Yosemite Valley and taking the free shuttle (get off at shuttle stop #17).

Transportation
The Valley Visitor Shuttle (7 am to 10 pm year-round) serves the trailhead at shuttle stop #17. You can also bicycle the first mile of the trail to the end of the paved service road. From there, you can either turn around or park your bike and begin your hike.

Trail Etiquette
Leashed pets, bicycles, and strollers are allowed on the first paved mile of the trail. Beyond that, they are prohibited. Keep your food within arm's reach at all times and do not feed the wildlife. Carry out all trash and food waste (fruit peels, shells, etc.).


Other Easy and Moderate Hikes in Yosemite Valley
<< Back to Yosemite Valley Day Hikes