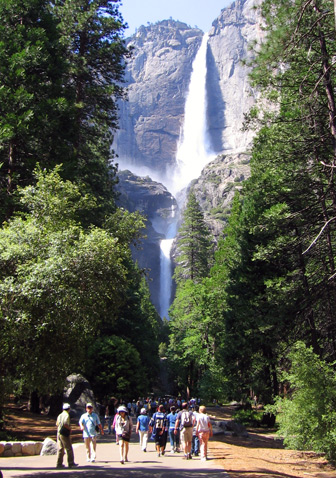 Trail Overview
Distance: 1 mile (1.6 km) loop
Elevation gain: Approximately 50 ft (15 am)
Difficulty: Easy
Time: 30 minutes
Begin at: Lower Yosemite Fall Trailhead (shuttle stop #6)
Part of North America's tallest waterfall, Lower Yosemite Fall is the final 320-foot (98-meter) drop. Deafening in spring and early summer when the waterfall peaks in volume, you can expect to get sprayed with water when standing on the footbridge near its base. This short, easy walk rewards with spectacular views of both Upper and Lower Yosemite Falls. This paved loop trail offers different vantage points of Yosemite Falls and Yosemite Creek, and you can stop at the many exhibits to learn more about the natural and cultural history of the area.
If walking from the Valley Visitor center, follow the bicycle path to shuttle stop #6 and begin the trail. Consider walking the loop in a clockwise direction for best views of Yosemite Falls. This eastern portion of this loop trail is wheelchair accessible (when not covered in ice or snow).
To learn more about this Yosemite icon, view a 10-minute video podcast episode about Yosemite Falls.
Seasonality
The trail to Lower Yosemite Fall is open year-round. When the water is at its peak in spring and early summer, you can expect to get a little wet. This waterfall is often dry from late July or August through October. Expect icy conditions in some areas during the winter, especially on the short climb leading to the footbridge on the western trail.