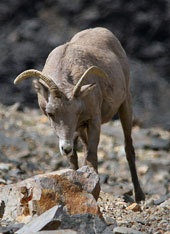 Copyright Ron Wolf
Bighorns inhabit the highest alpine elevations and among the sharp, craggy peaks of the Sierra Nevada and forage for sparse grasses and other alpine plants adapted to the short, windy summers, and long, cold winters. These plants must, however, be located on open plateaus and meadows where approaching predators can be detected by the bighorns, and within sprinting distance of "escape" terrain: steep, rocky terrain where predators would have a hard time keeping up with the bighorns. Bighorns seem to glide effortlessly across steep cliff faces, using even the narrowest ledges as foodholds. This surefootedness is due, in part, to an interesting adaptation. Bighorns have soft pads on the bottoms of their hooves, which give them traction over rocky terrain. This, combined with phenomenal strength and balance, allows even bighorn lambs to race across seemingly featureless, vertical cliffs. John Muir, in his writings, referred to the Sierra Nevada bighorn sheep as "animal mountaineers."
With the arrival of gold miners in the 1850s and sheep grazers soon thereafter, to the Sierra, the stage was set for decimation of Sierra Nevada bighorns. Miners killed large numbers of bighorns for food. The largest factor, however, that persists as a threat to this day, is exposure to the diseases that all domestic sheep carry. Bighorns have no natural resistance to these diseases to which domestic sheep have adapted. The result is that it takes only one nose-nose contact between a bighorn and a domestic sheep to fatally infect the bighorn. The infected bighorn, however, most often carries the diseases back to its main herd, resulting in a "wildfire" of death that sweeps through the herds and can kill hundreds of bighorns in several months. The highest priority for recovery of Sierra bighorns, therefore, is to remove any chance of contact between domestic sheep and bighorns.
So dramatic was this decline that bighorns were granted full protection by the State of California as early as 1882. Despite this protection, the remnant herds continued to dwindle, until only two populations remained in 1979, both in the southern Sierra Nevada, and totaling only 125 animals. This precarious status prompted the formation of the Sierra Bighorn Interagency Advisory Group in 1981 with the goal of reversing this decline by establishing more populations. These efforts included the introduction of 38 bighorns near Tioga Pass called the Yosemite Herd in the late 1980s. (Scroll down to see graphic of herd locations.)
Although this herd spends most of its time outside the park on U.S. Forest Service land, its growth and success will likely result in reoccupation of habitats in the park. This population grew to nearly 100 animals by 1993, then unknown factors resulted in a population crash with a loss of more than 60% and a continued decline over the next several years. By 2000, only 20 bighorns remained in the Yosemite Herd. Other herds in the Sierra Nevada were experiencing similar plummets in population. This sudden plunge prompted emergency listing of the Sierra Nevada bighorn sheep as both a state and federal endangered subspecies.