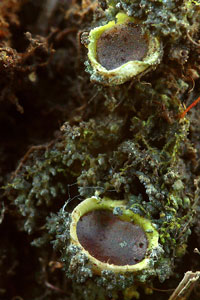 What Is Being Done to Study
Lichens in the Park?
In the Yosemite Unknown Flora study, many phases of collection and identification have taken place. Beginning in 2007, experienced mountaineers from the American Alpine Club assisted with lichen collecting on steep cliffs. In 2008, an experienced lichenologist from Denali National Park was brought in and a cooperative agreement with Oregon State University was established. In September 2009 as part of Yosemite's first "Lichen Blitz," 10 leading lichen taxonomists from Austria, Germany, Sweden and across the United States helped NPS botanists document lichens in a wide range of interesting habits. This international team was selected specifically for their expertise to identify taxonomically difficult lichen groups that are well represented but not yet documented within the park. Many species have been added to the park lichen inventory—several new to the Sierra Nevada or new to California. Complete inventory results are expected in 2010.
What are some of the specific inventorying results? Lichen communities in Yosemite are diverse, but several pollution-intolerant species, such as Alectoria sarmentosa, Bryoria fremontii, and Usnea spp. are uncommon and may be in decline. Nitrogen-loving species such as Candelaria concolor, Physcia, Physconia and Xanthoria spp. appear to be increasing in abundance, particularly along the Merced River corridor.