Yosemite National Park, from its minute wildflowers to its towering giant sequoias, is a place of contrasting beauty with a nearly intact natural diversity. The park's 11,000-foot elevation range provides a phenomenal variety of growing conditions, allowing 1,450 species to thrive. In spring and summer, Yosemite's native wildflowers erupt in profuse and spectacular displays, supplying food, habitat and shelter for a great variety of wildlife.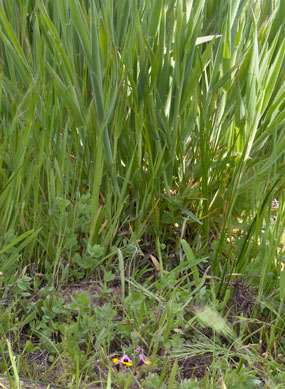 Invasive plant threaten this biodiversity; more than 200
non-native plant species
have been documented in Yosemite [25 kb PDF], with approximately 10 new non-native species found each year. Many of Yosemite's 4 million annual visitors cross through weed-infested lands on their way here—unintentionally bringing invasive plants in on socks, shoe laces, vehicle tires, and pet fur—making the introduction of exotic species inevitable. Keeping Yosemite pristine, therefore, is a continuous challenge that requires a comprehensive understanding of invasive plant biology, threats and treatments balanced with an appreciation for the logistics posed by such a large and rugged park.
Not all invasive plants, however, impair the natural landscape. While only 10 percent or less rapidly displace native plants, this small percentage has a large impact—drastically changing native plant communities and their associated wildlife throughout the Sierra Nevada. Therefore, there's a need to control these spreading invasives. Yosemite prioritizes the control of these invasive species, according to their ecosystem threat and the park's ability to mitigate that threat. Yosemite's high-priority species are yellow star-thistle, Himalayan blackberry, common velvet grass, Italian thistle, and spotted knapweed. Their impact on natural ecosystems continues to grow despite best efforts of resource managers.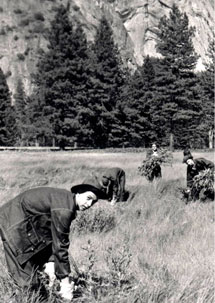 Yosemite's understanding of the science of invasive plants has come a long way since the 1930s when Civilian Conservation Corps workers began pulling bull thistle, common mullein, and St. John's wort in Yosemite Valley. After 80 years of diverse management tactics, these invasive species are still widespread—evidence of the challenge to control invasive plants across such a large park. A wide range of tools, skills, sophisticated technology, financial resources, and detailed planning systems are needed. Today,
Yosemite's Invasive Plant Management Program
is based upon the principles of
Integrated Pest Management
(IPM)—a time-tested, decision-making process based upon the best available science and practical experience that involves inventory, prioritization, prevention, control, treatment, monitoring, research, and outreach. IPM ensures the most effective tools and methods are used to protect the park's resources and to have the minimal impact upon people and the environment. Invasive plant control actions are an often expensive and time-consuming response to a problem that ideally would have been prevented or detected early and eradicated.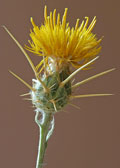 Yellow star-thistle
, one of Yosemite's most defiant players, tells a challenging management story. Already widespread throughout western California, yellow star-thistle has now reached the Sierra foothill woodlands relatively recently. Along the park's western boundary, land managers are trying to stop its eastward spread. To control it on flat terrain, the invasive plant program uses mechanical mowing. On a steep hillside, mowing has proven dangerous to workers. Herbicide treatment is the only reasonable option for safely and successfully controlling certain plants on the steep slopes of the Merced River Canyon. Every tool has its strengths and limitations, so more tools offer resource managers more options, which in turn provides for a greater likelihood for successful control. The more efficient and effective treatments, the fewer re-treatments needed, and the more resources can be allocated to prevention.
Yosemite's invasive plant management ensures the protection of all the park's diverse natural and cultural resources through a collaborative process. This process begins each winter with consultations between management staff and resource professionals, including park botanists, wildlife biologists, and archaeologists. To be transparent and garner the broadest understanding for control efforts, the park shares its annual work plans and reaches out to American Indian tribes and the interested public for feedback. Annual work plans are posted online, with the public encouraged to comment. An informed dialogue will be our greatest asset in protecting park resources from the spread of invasive plants.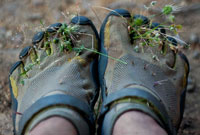 Invasive Plant Management
Efforts at a Glance
Explore the primary elements of Integrated Pest Management to learn more about what Yosemite's invasive plant program is doing to protect the park's precious natural and cultural from degradation and displacement by non-native species.

Get Involved and Learn More

Follow Yosemite's Invasive Plant Management Program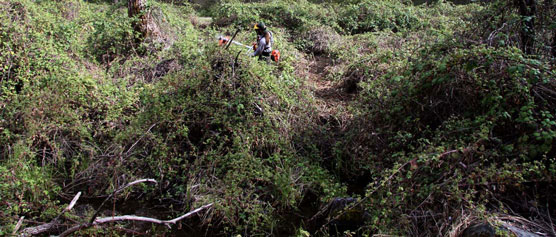 "On a global basis…the two great destroyers of biodiversity are, first habitat destruction and, second, invasion by exotic species." — E.O. Wilson, Harvard ecologist