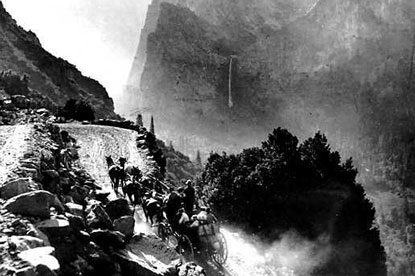 Historic 1903 photo by J.T. Boysen
The dramatic plotlines of Yosemite's people set in its special places reveal poetic accounts of discovery, survival, hope, and defeat. History books detail the Valley's discovery by Euro-Americans in the years just before 1851 and probably as early as 1833. Then, the Mariposa Battalion entered Yosemite Valley on March 27, 1851, as a punitive expedition connected to the Mariposa Indian War. As white settlement soon occurred, a stream of visitors followed on foot, on horseback and by rail (to just outside the park)—staying at rustic hotels owned by adventuresome entrepreneurs. Parts of the landscape became exploited—livestock grazed in meadows and orchards replaced native vegetation—spurring conservationists to appeal for protections. President Abraham Lincoln signed an 1864 bill granting Yosemite Valley and the Mariposa Grove of Giant Sequoias to the State of California as an inalienable public trust. John Muir sparked the creation of Yosemite National Park in 1890 after he witnessed the devastation of the subalpine meadows by domestic sheepherds. Hetch Hetchy Valley became the center of a bitter political struggle a decade later when the city of San Francisco wanted to dam the Tuolumne River as a source of drinking water. These captivating stories weave one into another with the next chapter yet to be told.
Winter Recreation: The Yosemite Winter Club, started in 1928, continues to make history today: Learn how to take part.