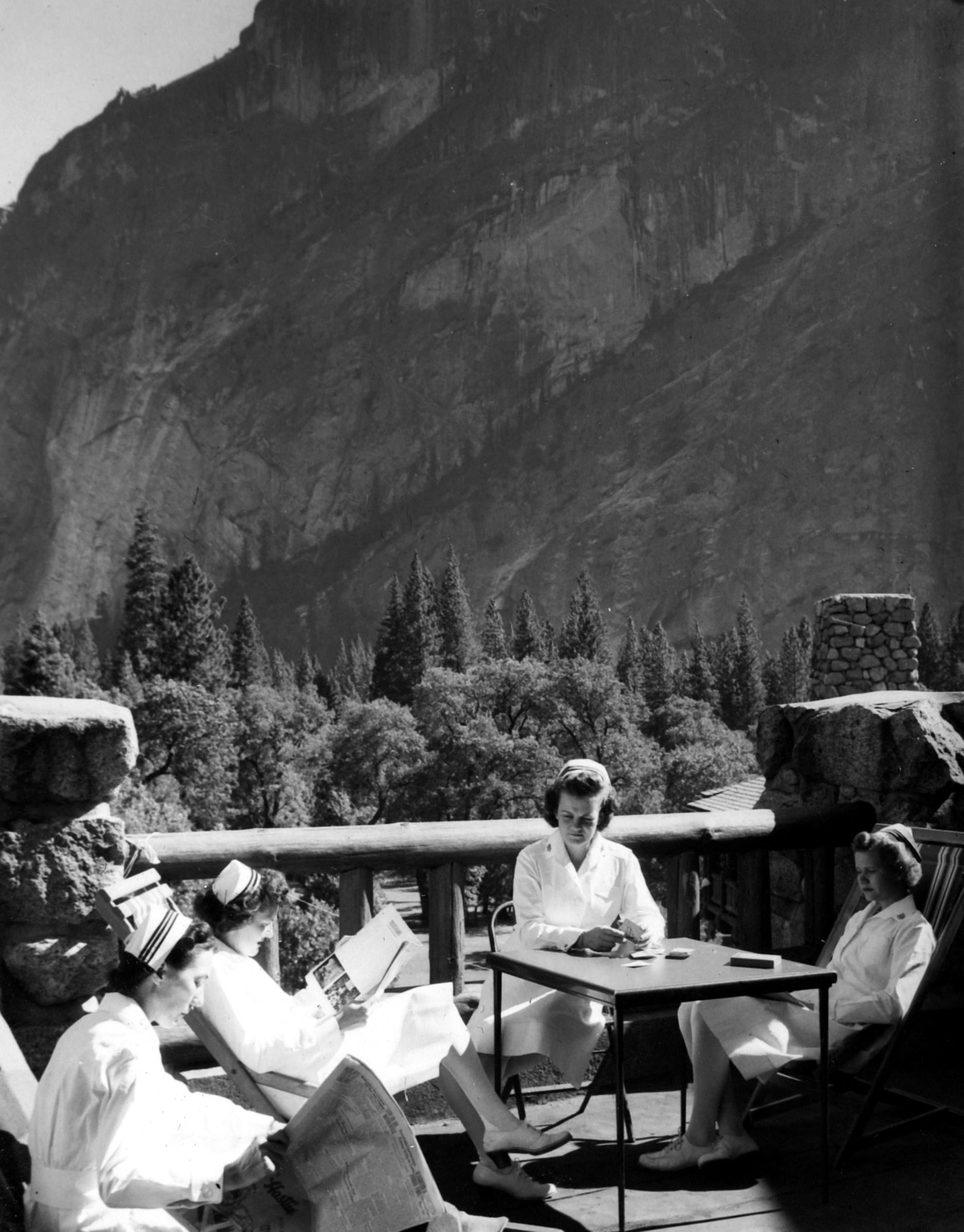 The Navy's operation at Yosemite was initially intended for neuro-psychiatric rehabilitation. The thinking was that shell-shocked patients would respond well to the peaceful setting of an isolated scenic facility. In fact, the site quickly proved to be exactly the opposite of what these patients needed. The towering cliffs caused many to become claustrophobic. Isolation and lack of diversionary social or entertainment outlets left their disturbed idle minds preoccupied with the very memories the Navy hoped to erase. Within a few months, hospital administrators wisely decided to phase out psychiatric treatment at the Ahwahnee and convert the facility into a general physical rehab unit. It was a new direction, but the same old problems prevailed. As one early staff member recalled, "If the patients weren't nuts when they got to Yosemite, the boredom there soon sent them over the edge." Staff morale also suffered badly.
A change in Navy leadership in August 1943 marked a dramatic change in the hospital's rehabilitation strategies. The new commander, Capt. Reynolds Hayden, was a seasoned veteran with years of experience managing military medical units (including commanding officer of the Navy Hospital at Pearl Harbor during the 1941 surprise attack). Besides being an inspirational leader, Hayden was competent, sensible, compassionate, and very resourceful. He immediately began aggressively expanding the hospital's recreational and rehabilitation resources. Simultaneously, the National Park Service and a number of local and regional civic organizations also began to take a keen interest in improving the plight of the staff and patients stationed at Yosemite. By successfully scrounging, begging, borrowing, and politicking, Hayden's administration expanded hospital facilities to include: a library, a six-lane bowling alley, an extensive crafts department, a pool hall, daily excursions to Badger Pass during the winter (with free equipment and mandatory lessons from a staff trainer), re-opening of the Camp Curry toboggan run (operated by Navy staff), on-site publication of the hospital's own newspaper, a Ship's Service store (including a soda fountain), a Welfare Fund, machine and wood shops, and transportation facilities (and adjusting Navy regulations so patients and staff could take leave outside the park).
Additional hospital improvements included tripling the hospital's physiotherapy facilities and equipment, significantly improving available housing for families of patients and staff, forming a staff/patient dance band at the hospital, organizing regular guest appearances by orchestras and USO entertainers, acquiring a projector and screen to show Hollywood movies on a regular basis, constructing new concrete tennis and basketball courts, and, last but not least, building the servicemen's own "Oasis" beer joint, the only authorized pub in any Naval hospital around the world.