Boating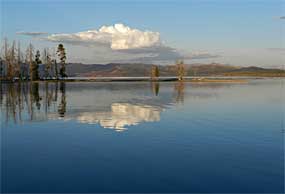 Private Boats
Boating is allowed on most of Yellowstone Lake and on Lewis Lake. Only non-motorized boating is allowed on most other lakes. Only one river is open to non-motorized boating: the Lewis River channel between Lewis and Shoshone lakes.
Permits are required for all boats and float tubes. Boaters must have a Coast Guard approved wearable flotation device for each person. All boat permits (motorized & non-motorized) can be purchased at the South Entrance, Grant Village Backcountry Office, and Bridge Bay Ranger Station. Mammoth Backcountry Office, Lewis Lake Campground, and West Yellowstone Visitor Information Center sell only nonmotorized permits. Northeast Entrance, Canyon and and Old Faithful backcountry offices, and Bechler Ranger Station sell only float tube permits.
All boats will be inspected by NPS rangers for Aquatic Invasive Species (AIS) when obtaining a permit. As a precaution, any type watercraft suspected of harboring AIS will be subject to a non-chemical decontamination treatment..
Jet skis, personal watercraft, airboats, submersibles, and similar vessels are prohibited in Yellowstone National Park.
Yellowstone National Park Boating Regulations (609 KB pdf)
Rentals and Guided Boat Trips
Outboards and rowboats may be rented (first come, first served) from Xanterra Parks & Resorts at Bridge Bay Marina on Yellowstone Lake. Xanterra also provides guided fishing boats which may be reserved in advance by calling (307) 344-7311 or 1-866-GEYSERLAND (439-7375).

TDD service (Telecommunications Device for the Deaf) is available at 307-344-5395. Online reservations are not available at this time.

Other commercial businesses are permitted to offer guided services for canoeing, kayaking, and motorized boating.
Did You Know?

Yellowstone contains approximately one-half of the world's hydrothermal features. There are over 10,000 hydrothermal features, including over 300 geysers, in the park.