Fishing and Fisheries Science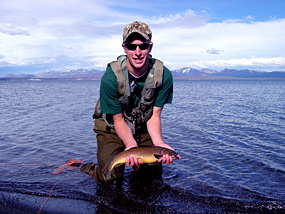 Photo by Joe Facendola
Fishing in Yellowstone
Yellowstone National Park is managed to protect cultural and natural resources and outstanding scenery, and to provide for visitor use. Fishing has been a major visitor activity for well over a century. Because of this history, fishing continues to be allowed and can complement, and in some cases even enhance, the park's primary purpose to preserve natural environments and native species.
If you're planning to fish while visiting Yellowstone, this video will provide you with the information you need to plan your fishing outing.

Duration:

4 minutes, 9 seconds
It is obvious that the hot water of Yellowstone's thermal features is dangerous but far more people have been killed by exposure to the cold waters of the parks lakes and rivers.

Duration:

5 minutes, 33 seconds

NPS Photos/Koel; Arnold
Fisheries Science in Yellowstone
Native cutthroat trout are the most ecologically important fish of the park and the most prized, and highly regarded by visiting anglers. Several factors, mostly related to exotic species introductions, are threatening the persistence of these fish. The Yellowstone Fisheries Program strives to use best available science in addressing these threats, with a focus on direct, aggressive intervention, and welcomed assistance by visiting anglers.
More Information
Troubled Waters video (7 min.): On the surface, Yellowstone's waters look placid and pristine. However, aquatic invaders–including fish, parasites, and snails–are moving in on native species.