Headquarter's Visitor Center Switching to Winter Hours on Sept. 20th

Wrangell-St Elias's main visitor center, located near Copper Center, AK, will be switching to winter hours starting September 20th. The new hours of operation are Mon.-Fri. 9:00 am-4:00 pm and closed on Saturday and Sunday.
Weather
Although the park is relatively near the coast, high mountains and icefields act as barriers to the ocean's moderating influence. The result is that with the exception of the coastal Yakutat area, Wrangell St. Elias has an interior continental climate (long, extremely cold winters, and short, warm, relatively dry summers). Remember that in any season, the weather can change quickly, so it is wise to pack with clothing that can be layered, ready to peel off or add as conditions dictate.
Winter
This season is long, dark, and extremely cold with highs of 5-7ºF and nighttime lows dipping to -50ºF! Temperatures may remain below freezing for five months. Daytime skies are usually clear and at night the aurora dances overhead. Exceptionally dry snow covers the ground to around two feet.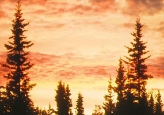 Spring
In the spring, clear skies, increasingly longer days, and warming temperatures break winter's hold on the land with dramatic quickness. Average highs are 40-50. Lows may still dip into the teens and single digits.
Summer
Wildflowers and mosquitoes peak in June and July. Consider bringing a head-net. June and July are also the warmest months, with highs reaching near 80 on some days, but it can snow any month of the year in the highcountry. The prime backcountry season is June 20 to August 20 due to snow depths at higher elevations. Drizzling rains are not uncommon throughout the summer and, in general, rainfall increases in August and September, especially along the coast.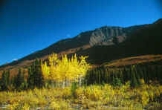 Fall
Autumn arrives early; willows and aspens begin to change color by mid-August. This season can be delightfully clear, spectacular, and mosquito-free, but it often too short. First snows often fall in September.


Did You Know?

Approximately 25%, or 5000 square miles, of Wrangell-St. Elias National Park & Preserve is glacial ice. This represents about 60% of the glacial ice in the entire state of Alaska.