Things To Do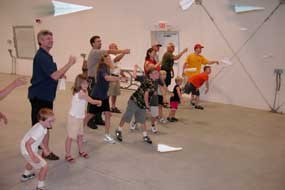 National Park Service
Visit the Wright Brothers Visitor Center where the Wright brothers' story is told through exhibits.
On display in the visitor center are:
a full-scale reproduction of the 1902 glider,
a full-scale reproduction of the 1903 flying machine,
an engine block from the original 1903 Flyer, and
a reproduction of the Wright's first wind tunnel.
Additional exhibits, movies and educational programs are available in the Centennial Pavilion.
Climb Big Kill Devil Hill for a breathtaking view of the area from sound to sea. Atop the Hill, stands the 60 ft. Pylon - the site where Wilbur and Orville conducted their glider experiments.
Stand on the same spot where the brothers made their first flights. A large granite boulder marks the spot where the first plane left the ground.
Visit the park via plane and land at the 3,000 ft. First Flight Airstrip. Spend a day visiting the place where flight started.


Did You Know?

Cape Hatteras National Seashore, our nation's first national seashore, is located only a few miles south of Wright Brothers National Memorial. More...