Places To Go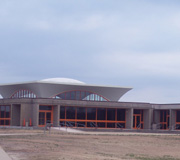 NPS
The Wright Brothers Visitor Center
Exhibits and artifacts on the Wright brothers' background and the development of their flying machines are on display. A replica of the 1903 Flyer as well as the Wright Brothers Bookstore operated by Eastern National are at the visitor center.
The Paul E. Garber First Flight Shrine was established in 1966 by the First Flight Society, honors individuals and groups that have achieved significant firsts in the development of aviation.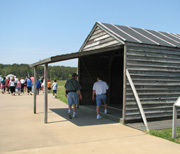 NPS
Living Quarters and Hangar
A two minute stroll from the visitor center, the living quarters and hangar are reconstructed at the original locations. The living quarters is furnished with items similar to those that the Wrights used from 1900 to 1903 and the hangar replicates the building where the Wrights stored their 1903 Flyer.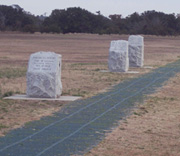 NPS
Flight Line
Located just west of the reconstructed camp buildings, a large granite boulder commemorates the take-off point for the first successful powered, controlled-flights by the Wright brothers. Four smaller stone markers chart the path of the flights.