Closures and Missile Tests

Upcoming Missile Tests: From time to time the missile range that surrounds us performs missile testing that may require the closure of the park or Highway 70. Please follow the link below for up to date information on closures More »
2014 WHITE SANDS BALLOON INVITATIONAL

The White Sands Balloon Committee and the Alamogordo Chamber of Commerce will be hosting both days of the Balloon Festival on Sept 20-21 at the Ed Brabson Balloon Park on Lavelle Rd in Alamogordo. Call Pat at (575) 430-9226 from 8-5 pm MDT.
Summer Monument Hours

The monument currently opens at 7 a.m. and closes roughly 1 hour after sunset. More »
Road Safety Corridor

The first four miles of Dunes Drive is a road safety corridor. Slowing or stopping in the corridor is prohibited. Dune Life Nature and Playa trails are also temporarily closed. The staff of White Sands National Monument apologizes for the inconvenience.
Seeing the Park on Foot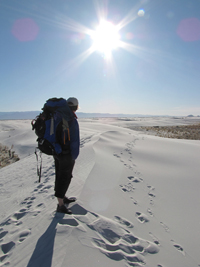 White Sands National Monument has several trails available to those wishing to do a bit of hiking while visiting. There are five trails in all and they vary in terms of difficulty and what you will see. For more information on the trails themselves, download our Hiking at White Sands brochure.
While we welcome hikers to enjoy these trails, backpacking across the monument is not allowed due to safety concerns and military restrictions.
Staying Safe:
Your safety is our utmost concern. Please exercise caution when hiking the monument's trails, especially at mid-day or during the heat of summer.
Always take at least a gallon of water per person with you, along with plenty of high-energy snacks such as granola bars to keep your energy up. Water containers can be filled at the visitor center. No water is available in the dunefield.
Never hike alone! Heat stress can set in very quickly, especially in the summer, and can have fatal consequences. Be familiar with the signs of heat exhaustion and know your body's limits.
For more information on what to do if you find yourself in an emergency situation while hiking White Sands, download our Desert Safety brochure.
Pack it in, pack it out. Trash is not only unsightly, it is also unhealthy for both people and the animals that live here in the dunefield. Remember to carry back out everything you carried in with you.
Backcountry Primitive Camping (Backpacking):

The monument does have ten primitive backcountry sites available on a first-come first-served basis for visitors wishing to backpack into the dunes to enjoy a night on the sands. For more information...


Did You Know?

Most desert animals are nocturnal, coming out to feed only at night when temperatures are cooler. Every animal in the white sands makes tracks on the dunes as it moves, leaving clues to its nocturnal activities.