White House Fence Restoration and Sidewalk Closure

The National Park Service is restoring the White House fence along Pennsylvania Avenue, portions of which are believed to date back to 1818. During this restoration work, sections of the White House sidewalk will be temporarily closed for public safety. More »
Construction Project Affecting the White House Sidewalk

Due to a construction project, a portion of both the White House sidewalk and Pennsylvania Avenue near East Executive Avenue will be closed until April 2015.
1923 Tree Lighting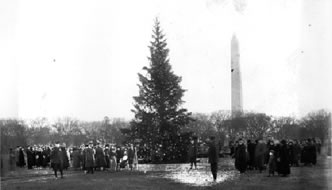 Library of Congress, Prints and Photographs Division
The E
llipse
In November 1923, a letter arrived at the White House, from the District of Columbia Public Schools, proposing a lighted Christmas tree be erected on the South Lawn of the White House - hopefully creating a Winter event similar to the White House Easter Egg Roll an event of "national character" which occurred each Spring.

First Lady Grace Coolidge, having arranged for a Christmas sing on the North Lawn of the White House and not wanting two events on White House grounds gave permission to erect a cut Christmas tree on the Ellipse, south of the White House. Organizers promoted the tree as the "National Christmas Tree." To add to the "national" appeal, President Calvin Coolidge was invited to participate. On December 24 at 5 p.m., the President walked from the Oval Office to the Ellipse, and pushed the button to light the tree, a gift to the President from Middlebury College in the President's native state of Vermont.

That evening a marathon of activities ensued. Citizens returned to the tree at 7 p.m. for a choral concert and performance by the "President's Own" Marine Band quartet. At 9 p.m. citizens headed to the North Lawn for Mrs. Coolidge's carol sing. At midnight it was back to the Ellipse where a sing was under way as a reenactment of the wise men's journey was being acted out at the nearby Washington Monument.
by C.L. Arbelbide
January 6, 2001

Did You Know?

The Andrew Jackson statue represents the first equestrian statue to be erected in United States. This bronze statue, measuring about 9 feet high and 12 feet wide, can be found in the center of Lafayette Park.