Mosquito Borne Disease

There are two mosquito transmitted diseases (virus), Dengue, and Chikungunya Fever, now in the Caribbean. Both viruses are transmitted by Aedes species mosquitoes, which have black and white stripes markings. Please take a look at link information. More »
Things To Do
Virgin Islands National Park's diverse beaches, coral reefs, historic ruins, and hiking trails provide endless hours of exploration and enjoyment, as well as inspiration and opportunities for solitude and reflection.
Visitors can enjoy a variety of activities on the land and in the water, including swimming, snorkeling and scuba diving; sailing, kayaking and windsurfing; and camping, hiking and bird watching.
Enjoy the crystal blue waters on one of the many charter day-sail or boat snorkeling tour which are offered by private operators
Explore on your own, or take advantage of a two-hour safari bus island tours.
For information on the ongoing archeological research at Cinnamon Bay visit the Friends of the Virgin Islands National Park website.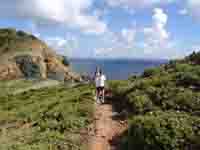 Hiking In Paradise
Where else can you hike from mountain top to a white sandy beach?


Did You Know?

This unusual-looking tree found in dry forest areas has a reddish, peeling bark. The leaves and sap smell like turpentine and have many medicinal properties, but it is the peeling bark that gives the tree its nickname – "Tourist Tree".