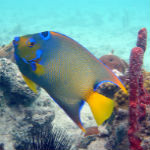 Photo © Dr. Caroline Rogers,  all rights reserved
Get ready
for snow-white sand and palm trees, angel fish and spotted eagle rays, corals and sea urchins, windmills, old Danish roads and ruins, pre-historic sites and Bay Rum Tree forests.
Where to begin?
This "Plan Your Visit" section has all kinds of helpful tips about things to do, places to go, , and . Dig deeper for information about ,
directions
, , ,
permits and reservations
,
boating
and .