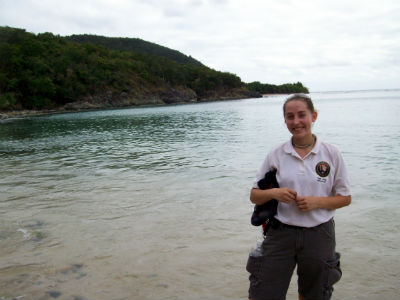 Have you ever wanted to volunteer in a national park? There are many opportunities for YOU to get involved! Our team of volunteers donates their time and expertise through a variety of activities and projects throughout the year, from clearing and maintaining trails, to staffing the visitor center, leading guided hikes, monitoring sea turtles and much more. There are a variety of volunteer opportunities at Virgin Islands National Park.
Getting involved with your park not only helps the park, but also heightens personal connections with park resources and the meaning of these special places.
Housing is not available for volunteers. Camping may be available, subject to availability, during the off-season (late summer and early fall). Park-specific training and uniforms will be provided.
If you are interested in volunteering at Virgin Islands National Park, please look at the opportunities available at www.volunteer.gov and fill out a volunteer application. You can also email the park volunteer coordinator, Corinne Fenner. We are in need of volunteers to help with the following projects: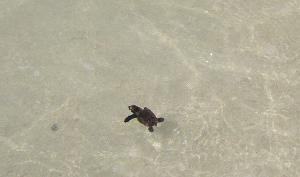 Photo © Annie Caswell, all rights reserved.
Call for Volunteers to Adopt-A-Beach Sea Turtle Monitoring
Virgin Islands National Park resource management team needs your help monitoring the beaches of St. John to measure and protect sea turtle activity.
Dedicated individuals will be responsible for assisting in turtle species and activity identification, beach surveys and data recording. Tasks include walking assigned beach 1-2 times a week, photographing/drawing turtle activity signs, writing up and uploading recorded data via smartphone app/email weekly. Occasionally volunteers will be asked to assist park staff with turtle nest excavations, night surveys, or turtle rescues. This volunteer commitment will require at least 1-2 hours in the early morning each week until the end of November.
Transportation to and from adopted beach will be the volunteer's responsibility. Possible risks may include traversing thick vegetation, steep rocky terrain, rocky beaches with wet rocks that may be slick or unstable, exposure to inclement weather and an occasional beautiful sunrise.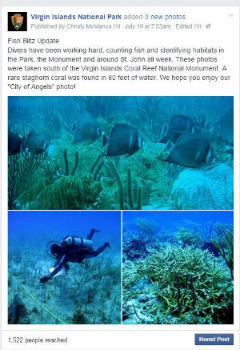 Media Assistant Needed
Volunteers are needed to help create posts for the official
Virgin Islands National Park Facebook
page and other social media sites the park may open in the future. We are looking for volunteers who love writing and want to share Virgin Islands National Park with visitors through social media, publications and websites. Media volunteers will help develop publications, and edit park websites and publications. Volunteers will also help develop a "library" of posts for use on social media.
The position will require working with park staff to determine potential topics for posts. Volunteer will then research, write, and compile posts, including obtaining high quality photographs for each post. Volunteers can coordinate scheduling with park staff and generally work from home, using personal equipment and communicating with park staff via email and telephone.
Volunteers will have the opportunity to share photos and text about Virgin Islands National Park with people around the world. If interested please visit
www.volunteer.gov
to sign up. Email
Christy McManus
or
Corinne Fenner
for more information.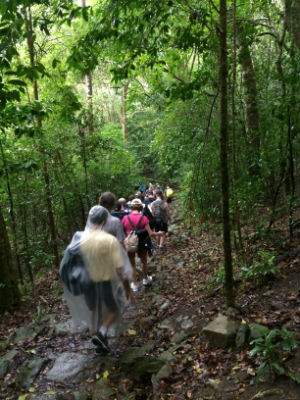 Reef Bay Hike Volunteer Assistant Needed.
The Reef Bay Hike is the most popular ranger-guided activity at Virgin Islands National Park.
The hike is 2.5 miles downhill through the Reef Bay Valley, discovering the natural and cultural history of St. John.
Volunteers are needed to serve as the sweep, helping to keep visitors together and safe during the hike. It is a great way to meet people from all over the world, learn more about the history of the island and help visitors have a safe and meaningful experience in their national park.
Right now, we are in need of volunteers to help from 9:30 am to 2:30 pm on Thursdays and Fridays. If you are available to assist on one of these days, or have questions about this opportunity, please email Corinne Fenner.