Interagency Senior Pass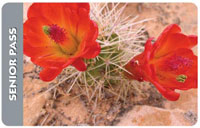 America the Beautiful
The National Parks and Federal Recreational Lands Pass Series
A pass is your ticket to more than 2,000 federal recreation sites. Each pass covers entrance fees at national parks and national wildlife refuges as well as standard amenity fees at national forests and grasslands, and at lands managed by the Bureau of Land Management and Bureau of Reclamation. A pass covers entrance and standard amenity fees for a driver and all passengers in a personal vehicle at per vehicle fee areas (or up to four adults at sites that charge per person). Children age 15 or under are admitted free.


Senior Pass
$10 Lifetime pass

For U.S. citizens or permanent residents age 62 or over.

May be obtained in person at a federal recreation site or through the mail using this

application form

. The cost of obtaining a Senior Pass through the mail is twenty dollars ($20). Ten ($10) for the Senior Pass and ten ($10) for processing the application. Applicants must provide documentation of age and residency or citizenship.

May provide a 50 percent discount on some amenity fees charged for facilities and services such as camping, swimming, boat launch, and specialized interpretive services.

Generally does NOT cover or reduce special recreation permit fees or fees charged by concessioners.
Frequently Asked Questions about the Interagency Senior Pass
NOTE: Golden Access and Golden Age Passports are no longer sold. However, these passes will continue to be honored according to the provisions of the pass.
Did You Know?

Louise Vanderbilt's bedroom at Hyde Park, was inspired by the Marie Antoinette chamber at, The Palace of Versailles.