Stay connected!
World War II Valor in the Pacific National Monument wants to help you stay connected to what's happening in the park. We routinely update our events calendar, news releases, photo albums, video collection, and more on this website and on social media.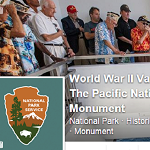 Follow @WWIIValorNPS on Twitter and on Facebook for events, news, pictures and videos, and general updates. We are also on Instagram.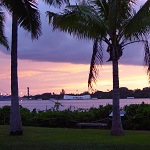 NPS photo
Please be aware that boat rides out to the USS Arizona Memorial are sometimes suspended due to high winds. This decision is made by the U.S. Navy, which operates the boats out to the Memorial. If tours are suspended, they will resume once the wind subsides. We update our Facebook page with the most current information about boat ride suspensions.