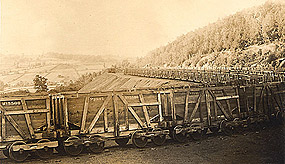 Minisink Valley Historical Society
The D & H Canal and Gravity Railroad was a system of transportation between northeastern Pennsylvania coal fields — owned by Philadelphia businessmen William and Maurice Wurts — and ports of New York and New England. From its opening in 1828 to its demise in 1898, the canal system transported millions of tons of anthracite coal.
The Delaware & Hudson Canal Company relied on engineering experience and technology from other canals — the Erie (NY), Morris (NJ), PA state canals — and financial backing from wealthy investors and stockholders, including Philip Hone.
The successful D & H was among the few privately-owned canals of that era. Construction of the canal lasted from 1825 to 1828, and employed thousands of laborers. The work — done by hand with pick, shovel and blasting powder — was difficult and often dangerous.
Carbondale to Honesdale 16- mile Gravity Railroad
The D & H Canal Company planned to transport their coal from the mines in Carbondale, Pennsylvania, to the Hudson River entirely by canal. However, the availability of water at the summit and the number of locks needed to scale the Moosic Mountains between Carbondale and Honesdale precluded this plan.
A "gravity railroad" was the solution, and construction began in 1827. The "gravity," designed by D & H Chief Engineer John B. Jervis, utilized a series of inclined planes and steam engines to pull carloads of coal up and over the Moosic Mountains, a rise of almost 1,000 feet. In his effort to use the latest transportation technology in England, Jervis's young assistant engineer Horatio Allen brought to Honesdale America's first steam locomotive, the Stourbridge Lion.
Completion of the "gravity" in 1829 enabled the canal to transport a great percent of its tonnage in coal. While built primarily for coal, cargo also included wood, stone, brick, Rosendale cement, and provisions.
Honesdale to Rondout 108 Miles, 108 Locks
Navigation on the canal began at the boat basin in Honesdale, where the coal was transferred from gravity railroad cars to canal boats. The canal's route followed the banks of the Lackawaxen River until it met the Delaware River.
Boats crossed the Delaware at Lackawaxen, where the canal then paralleled the New York shore of the Delaware to Port Jervis. There the canal turned eastward, following the Neversink and Rondout Creeks to the Hudson River, where the coal was unloaded at Rondout (near Kingston, New York) and sent by steamship to market.
The D & H Canal was originally 32 feet across at the top, 20 feet at the bottom, with a depth of four feet; its 76' x 10' locks could accommodate 20- to 30-ton- capacity boats.
At 1-3 mph, the canal boats pulled by mules made the round trip in 7 to 10 days.