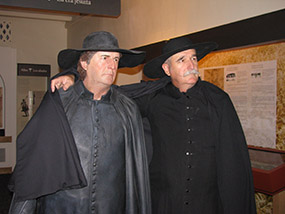 NPS Photo
The park's museum contains unique artifacts and images which tell the story of the Santa Cruz Valley, the mission period, and the current age of preservation with the National Park Service. Original wooden statues of saints (or santos) which stood in the niches of the church over 100 years ago can be seen today in the museum.
Also in the museum stand lifesized models of mission priests -- so lifelike, they are known to give visitors a bit of a fright!
The photogallery below contains additional images of the musuem which are great for school projects.