Nature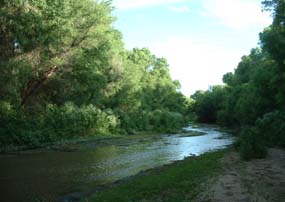 NPS Photo
Nature in a Historical Park? Yes!
Tumacácori National Monument (now National Historical Park) was established in 1908 to protect, preserve, and tell the story of the old Spanish and O'odham mission ruins. In 2005, more than 300 acres were added to the park, reuniting the church grounds with a small piece of historical mission property, and placing more than a mile of Santa Cruz River riparian environment, mesquite bosque (forest), and a section of the Juan Bautista de Anza National Historical Trail ("Anza Trail") within the park.
Also in 2005, an extensive plant and animal inventory was conducted within the park to begin to establish a list of its species. In depth knowledge of natural resources is needed so they can be managed and species of special concern can be protected. View the species inventory report that also details how the park is species rich for its size due to its position in North America and the variety of environments within the park.
The 4.5 mile stretch of Anza Trail that extends from Tumacácori to the Tubac Presidio State Historic Park in Tubac was the first stretch of this trail to be established in Arizona. The trail follows the river in the shade of mesquite, hackberry, elderberry, cottonwood, and willow trees.
The riparian, mesquite bosque, and surrounding desert scrub environments within the park provide shelter to more than 200 species of birds. A bird list is available upon request at the visitor center.
Other animals take refuge in the park, including mammals such as coyote, javelina, and raccoon, twenty-four documented species of reptiles and amphibians, and notable insects such as the giant mesquite bug, tarantula, tarantula hawk, and velvet ant.