A school within the local commuting distance from Tumacácori may request a classroom visit, assembly, or other event presence. We will do our best to accomodate all requests, but may be limited due to staff availability. Please be patient and make your request as far in advance as possible.
Beyond the programs described here, we are interested in developing new programs that best fit the needs of our neighbors in education. Help us help you!
Contact Tumacácori's Education Ranger or call 520-398-2341 for more information.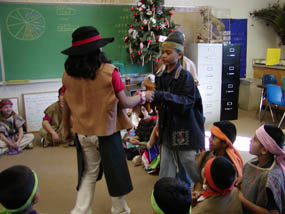 NPS Photo
Encounters
The Encounters program reenacts the historical meeting of Father Kino and the O'odham Indians in 1691. While Father Kino and his group learn about building and operating missions, the O'odham discuss contacting him and inviting him to Tumacácori. After the groups finally meet and exchange gifts, the O'odham students discuss whether or not they want a mission. After making their decisions, what actually happened in history is discussed.