GEORGE T. TAMURA is a Japanese American artist. Born in Sacramento, CA in 1927, he attended Chouinard Art Institute and showed in numerous one-man shows in the Los Angeles area. He was employed as an award-winning art/creative director.

Mr. Tamura was featured on the PBS program History Detectives as host Tukufu Zuberi investigated and solved the mystery of who created the paintings of an apparent internment camp discovered in an unlabeled box. Watch the episode>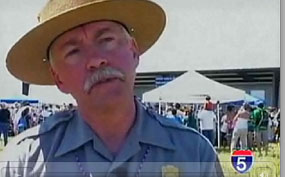 JON JARVIS
, NPS Director speaks to Channel 5 News about the new Tule Lake Unit and the upcoming planning process.
Watch it in the Multimedia Section>
Films Available about Stories from Tule Lake
Cats of Mirikatani>
Eighty-year-old Jimmy Mirikitani survived the trauma of WWII internment camps, Hiroshima, and homelessness by creating art. This documentary explores the lingering wounds of war and the healing powers of friendship and art.
From a Silk Cocoon>
The discovery of a small metal box leads to the uncovering of a family story, shrouded in silence for more than 60 years.