Weather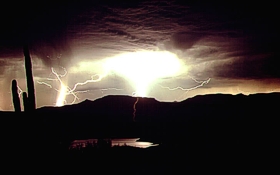 NPS Photo
Winter
Winter temperatures at Tonto National Monument are usually pleasant with highs in the 60s (15° - 21°C). The winter rainy season is January/February. Snow, though rare, is not unheard of.

Summer
Summers at Tonto National Monument can be extreme, with highs in the 110s (+43° C). Be sure to wear sunscreen and a hat, and to carry (and drink) plenty of water.

Thunderstorms frequently occur during July, August, and early September. Lightning is a real hazard, since hikers are often the tallest object on the hillside.

Spring & Fall
Spring and fall can be the best times to visit. Temperatures are generally mild, and the weather is dry.

Click here for today's weather.


Did You Know?

Tonto National Monument is home to a crested saguaro. Botanists disagree as to why some saguaros grow in this unusual form. Some speculate that it is a genetic mutation. Others say it is the result of lightning or freeze damage. About one in 150,000 saguaros develop this unusual growth.