Visitor Center is closed

The Visitor Center and bookstore will be closed for several weeks for construction. A temporary Visitor Center will be set up in the parking lot. The trail to the Lower Cliff Dwelling will be open during this period. No entrance fees will be collected.
Things To Do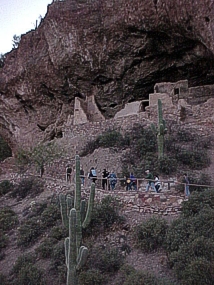 NPS Photo
30-minute visit:
Watch our 18-minute orientation video, view the Lower Cliff Dwelling from the deck, and visit the museum.
60-minute visit:
Watch the video, visit the museum, and hike the 1/2-mile Lower Cliff Dwelling trail.
Have a picnic in our picnic area.
More time and plan ahead:
If the Upper Cliff Dwelling trail is open (November - April), make a reservation for the 3-mile round trip hike.
There may be special activities scheduled, such as photo walks, off-site hikes, and living history demonstrations. Check our news releases or call 928) 467-2241 for more information.


Did You Know?

Tonto National Monument is home to a crested saguaro. Botanists disagree as to why some saguaros grow in this unusual form. Some speculate that it is a genetic mutation. Others say it is the result of lightning or freeze damage. About one in 150,000 saguaros develop this unusual growth.