Things To Do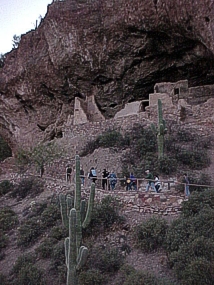 NPS Photo
Hike to the Lower Cliff Dwelling: It is a 1/2 mile (0.8 Km) uphill hiking on a paved path. It includes informative signage and park staff in the dwelling to answer questions. Plan to spend about one hour round trip for this hike and arrive before 4pm so you are back before the park closes.

Watch the video and check out the new museum: The 18 minute video discusses the people who built and lived in the dwellings in the 1300s. The museum will open mid-March 2015 and features many artifacts and a replica of a room in the cliff dwellings.

Guided tours to the Upper Cliff Dwelling: Park Staff offers limited access to this fragile dwelling by guided tours only November through April. Call for reservations (928)467-2241. Tours often fill quickly (15 person limit) especially during the early Spring. Please read Trail Description for Upper Cliff Dwelling.

The Visitor Center also includes an accessible bookstore and bathrooms. A picnic area offers accessible shaded tables and bathrooms. Both trails to the Upper and Lower Cliff Dwellings are steeply graded and not designed to accessibility standers for wheelchairs.

Special Programs include: Heritage Days on March 14th and 15th, 2015 &
Photo Walks March 2nd and 9th, 2015. Call (928)467-2241 for more information.

Read more about the Lower Cliff Dwelling and Upper Cliff Dwelling
See News Releases for upcoming park events and news.