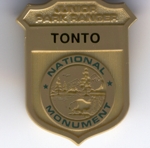 The Junior Ranger booklet contains games and puzzles relating to Tonto National Monument, and a badge is awarded upon completion. There is no charge for the Junior Ranger program.
You can also become a Junior Web Ranger! Click on the link for your age group, 6 and under, 7 - 9, or 10 - 14, and print out the pages. There are four activities for each age level, plus two for all ages. These are PDF files.

When you're done, mail the completed sheets, along with your name and address, to:
Attn: Visitor Services
Tonto National Monument
26260 N Az Hwy 188 # 2
Roosevelt, AZ 85545


Please be sure to include your name and address with your Junior Ranger packet, or else we cannot send the badge and certificate!!!

These activities are just a starting place for you and your child. It is our hope that they will help prepare you to enjoy a future trip to Tonto National Monument and lead you to visit other National Park Service sites.