Things To Know Before You Come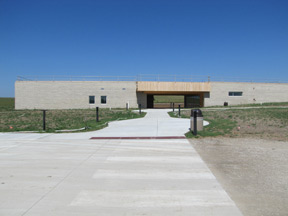 Our new visitor center is open. Please check in with the rangers and begin your visit here with 10-minute orientation film, brochures, and temporary exhibits. Please continue to call ahead (620-273-8494) for tour availability or check with the staff.

Visitor Safety
Bison - Windmill Pasture is home to the preserve's bison herd. Some hiking trails bisect the bison area. Please do not attempt to pet or come in close contact with the bison. Though they often appear docile, bison are wild animals and will attack when threatened. Please keep a safe distance when hiking.
Snakes - All wildlife at the park is protected. The preserve is home to venomous snakes, such as massasauga rattlesnakes and copperheads. For your safety, please watch where you are walking and do not put your hands anywhere you cannot see. Be cautious around rock walls, fences, and in tall grass.
No Biking, Just Hiking
Hiking and nature trails are for foot traffic only. A bicycle rack is provided in the top parking lot for your convenience. All trails are open 24 hours, seven days a week. At this time camping is not authorized.
Did You Know?

Kansas was once the bed of a vast inland sea. The unique, stairstep landscape of the Flint Hills was formed through a process of differential erosion. Erosion washed away the soft shale layers and left the tougher layers of limestone and flint to form the hilltops and prominent benches.