Things To Know Before You Come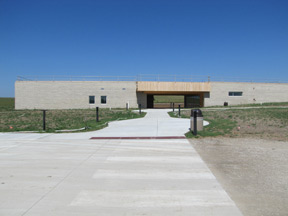 Our new visitor center is open. Please check in with the rangers and begin your visit here with 10-minute orientation film, brochures, and temporary exhibits. Please continue to call ahead (620-273-8494) for bus tour availability or check with the staff. The bus tour season runs from the last Saturday in April through the last Sunday in October.

Visitor Safety
Bison - Windmill Pasture is home to the preserve's bison herd. Some hiking trails bisect the bison area. Please do not attempt to pet or come in close contact with the bison. Though they often appear docile, bison are wild animals and will attack when threatened. Please keep a safe distance when hiking.
Snakes - All wildlife at the park is protected. The preserve is home to venomous snakes, such as massasauga rattlesnakes and copperheads. For your safety, please watch where you are walking and do not put your hands anywhere you cannot see. Be cautious around rock walls, fences, and in tall grass.
No Biking, Just Hiking
Hiking and nature trails are for foot traffic only. A bicycle rack is provided in the top parking lot for your convenience. All trails are open 24 hours, seven days a week. At this time camping is not authorized.
Did You Know?

A single blade of big bluestem might have a root system descending over 8 feet underground. This is deep enough so that the plant will emerge in the spring even without rainfall. Big bluestem grows abundantly on the Southwind Nature Trail.