Recent Aggressive Bison Behavior

Bison have recently exhibited some aggressive behavior. Hikers are alerted. Hiking is still available with alternate trails around Windmill Pasture. If hiking through the pasture, please stay at least 100 yards away from the bison or turn around. More »
Guided Tours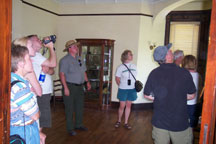 NPS Photo
Please call ahead (620-273-8494) for tour availability.

The house is currently unavailable due to maintenance, but an interpretive display
is located in the Visitor Center showing interior photos and text.
Guided House Tours - 25 minutes

National Park Service rangers and volunteers conduct some guided house tours through the historic 1881 limestone ranch house as staffing permits. House tours are free of charge.
Self-guided house tours are available daily via a laminated information sheet located on the back porch of the house.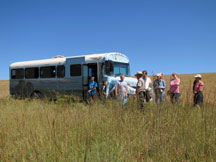 NPS Photo
Prairie Bus Tours - 1 1/2 hours

A step-on guide can board your Motorcoach and provide an interpretive prairie tour on the way to the Scenic Overlook Area south of Cottonwood Falls. If time allows, visitors may step off the bus to experience tallgrass prairie at the Scenic Overlook.
Motorcoach drop off area and parking is available at and near the new Visitor Center.
Due to the current inaccessible conditions of our bus tour road, the bus tours have been cancelled WITHIN the preserve until further notice.
Did You Know?

The limestone blocks used to build the historic house, barn, and outbuildings weigh over 160 pounds per cubic foot. Limestone was quarried locally, faced or quoined, then brought to the ranch for building purposes. Tallgrass Prairie National Preserve