Reminder, Bison Are Wild Animals

Windmill Pasture is home to the bison herd. They have been quite active in recent weeks. Please stay on the trails and use caution in their vicinity. Do not come in close contact with the bison. Allow at least 100 yards between you and the herd. More »
Guided Tours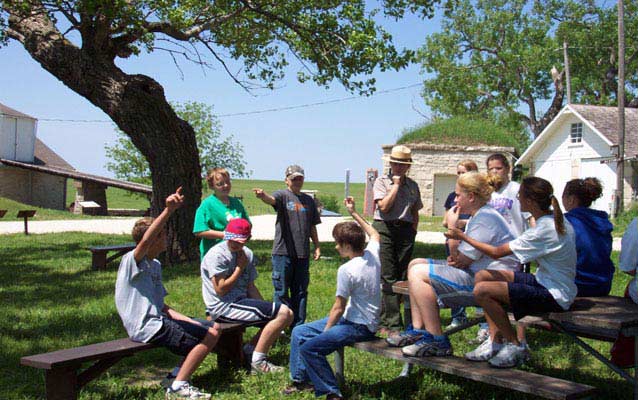 NPS Photo
Daily Programs and Tours Through October 2014 - 40 minutes

Mondays:
11:00 am -Poets of the Air - Intro to Bird Flight
1:00 pm - Historic Spring Hill Ranch tour
Tuesdays:
11:00 am - Learning the Sky - Intro to Night Sky Exploration
1:00 pm - Historic Spring HIll Ranch tour
Wednesdays:
11:00 am - Bison of the Prairie
1:00 pm - Historic Spring Hill Ranch tour
Thursdays:
11:00 am - Flint Hills Geology
1:00 pm - Historic Spring Hill Ranch tour
Fridays:
11:00 am - Penmanship and the One-Room School (Meet at the schoolhouse for this program)
1:00 pm - Historic Spring Hill Ranch tour
Saturdays and Sundays:
11:00 am - Historic Spring Hill Ranch tour
1:00 pm - Historic Spring Hill Ranch tour
Staff levels and conditions permitting, all programs, except for Friday's Penmanship program, begin at the Visitor Center. Penmanship program is given at the one-room schoolhouse.


The house is currently unavailable due to maintenance, but interior photos can be seen via our Virtual Tour Section.
Prairie Bus Tours - 1 1/2 hours -
A step-on guide can board your Motorcoach and provide an interpretive prairie tour on the way to the Scenic Overlook Area south of Cottonwood Falls. If time allows, visitors may step off the bus to experience tallgrass prairie at the Scenic Overlook.
Motorcoach drop off area and parking is available at and near the new Visitor Center.
Due to the current inaccessible conditions of our bus tour road, the bus tours have been cancelled WITHIN the preserve until further notice.
Did You Know?

Killdeer; like chickens, ducks, and quail; are born with eyes open and can run just moments after birth. Tallgrass Prairie National Preserve