Guided Tours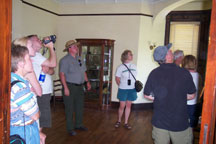 NPS Photo
Please call ahead (620-273-8494) for tour availability.
Guided House Tours - 25 minutes

National Park Service rangers and volunteers conduct some guided house tours through the historic 1881 limestone ranch house as staffing permits. House tours are free of charge.
Self-guided house tours are available daily via a laminated information sheet located on the back porch of the house.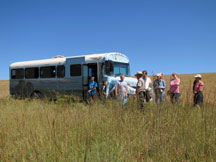 NPS Photo
Prairie Bus Tours - 1 1/2 hours

Due to the current inaccessible conditions of the preserve's bus tour road, the staff are conducting bus tours along the Flint Hills National Scenic Byway (K-177) to the Scenic Overlook area south of Cottonwood Falls, KS during the bus tour season. Rangers provide an interpretive program along the route that covers the prairie's intricate system of plants and animals, the geology that formed the Flint Hills, American Indians, and the legacy of ranching. You will also experience the vast prairie landscape -- sweeping views, rolling hills, and an endless sky.
2013 Prairie Bus Tour Schedule
April 27, 2013 - October 27, 2013
Ninety-minute prairie bus tours are offered on weekends (Saturday and Sunday)
at 11 a.m. and 1 p.m.

Please Check In first with a Ranger at the
Visitor Center to assure that space is
available for your tour.

Bus tours during the week are dependent upon staff availability with no advanced reservations available.

A minimum of two persons required per bus tour.
Please call ahead (620-273-8494) for tour availability.


For more private tours, we suggest making a reservation for a COMBO tour.

By separating the tours, we are better able to serve both large groups and walk-in visitors as staffing allows.
All tours and activities are free at the preserve.
Did You Know?

Killdeer; like chickens, ducks, and quail; are born with eyes open and can run just moments after birth. Tallgrass Prairie National Preserve