Diving in Amistad National Park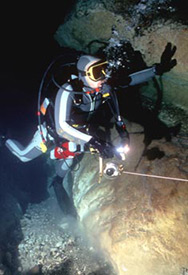 Diver explores the opening of the long-lost Goodenough Springs
Amistad Lake began impounding water in 1969-its waters deriving from three rivers: the Pecos, Devils, and Rio Grande. Along the border between Texas and Mexico, just north and west of Del Rio, the Pecos, and Rio Grande merge and the lake they form behind the dam is fed farther east by the Devil's River. Though dammed into lakes, the rivers retain their shape, creating a branching body of water with a lengthy shoreline.
Amistad has literally had its ups and downs. In May 1995, it was almost 401 feet lower than normal, leaving huge pieces of the surrounding landscape whitened by dried algae. Paved roads, long ago flooded by the lake, had to be cleared of decades of lake-bottom silt so boaters could drive their rigs down to the edge of the lake. Locals report the roads that had been submerged for years were in better shape than those receiving regular maintenance.
BASICS
Location: West Texas on border with Mexico
Elevation: 1,000 feet
Skill level: Intermediate-advanced
Access: Boat or shore
Dive support: Across Highway 90 from Diablo East
Best time of year: November-April; algae May-October
Visibility: November-April 25-30 feet; May-October 10 feet
Highlights: Submerged boats, buildings, caves
Concerns: Fishing lines, hooks under water; bring knife
Rules and Regulations
Dive Site Map
Dive Overview
Diving Amistad is a relatively easy proposition; it's getting there that's the problem. Del Rio is not located at the crossroads of the nation, but if you make it to this part of Texas, you'll find plenty to do. Even empty tanks can be filled at the dive shop located across TX 90 from Diablo East. Most people park and dive at the dive cove and various pullouts. Of the sites we list below, all except the Ranch House and Castle Canyon can be reached from the shore. If you have a boat, the rest of the park is at your subaqueous disposal. Boat launches are spread around the lake, and you can rent boats during the summer months at Diablo East and Rough Canyon.
Water visibility is best during cool months (November to April) when it peaks at 25 to 30 feet. From May to October, increased algae growth reduces visibility to less than 10 feet. Surface water temperatures range from mid-50s in winter to mid-80s in the summer. Thermoclines occur at 30-40 feet during the winter and deeper during the summer.
A knife is essential to diving Amistad. Monofilament fishing line is everywhere and a cheap diver's knife could make entanglement just a nuisance instead of a tragedy. In certain areas of the lake, such as around the Ranch House, carry wire cutters. You will probably never need them, but the first time you are caught in a trot line or strand of barbed wire, any prior inconvenience in carrying them will be quickly forgotten. Check in and register at the ranger station and pick up a brochure to learn about any recent changes in diving regulations or accident management protocols. Many of the park rangers are divers themselves and you will find them helpful and knowledgeable.
Dive Sites
DIABLO EAST VIEWPOINT- CLIFFS AND COVE
The dive cove is buoyed to keep boats out, so no dive flag is necessary. A dive platform in 30 to 40 feet of water allows dive classes to perform training exercises without kicking up a lot of silt. There are two boat wrecks here to explore.
CASTLE CANYON
A number of protected coves in this canyon make convenient spots to beach a boat and dive.
HIGHWAY 90 BRIDGE
This is generally a good dive area throughout the year. Visibility is some of the best in the lake, especially at whichever end of the bridge is in the lee of the wind, for example, the northwest end of the bridge during northwesterly winds.
INDIAN SPRINGS
At 6.5 miles up the Devil's River from Rough Canyon, small springs bubble and warm the water up to a depth of 20 feet or more, depending upon the water level in the lake. The 70°F water makes this a popular winter dive. Beware of fish lines and treble hooks.
GOODENOUGH SPRINGS
When Amistad Lake was formed, Goodenough Springs-the third largest in Texas, was submerged under its waters. Visiting divers and park rangers were convinced it was still flowing somewhere in the bottom of the lake, but finding it was a challenge. In 1994, members of the Submerged Resources Center located, with the assistance of the park staff, the entrance to Goodenough Springs and made the first dive a short distance into the conduit. The lake water could boast only three or four feet visibility and the temperature in late May was not much above 60 degrees F. How startling, then, to find crystal-clear water in the 70s at 125 feet. Goodenough Springs is open to diving by experienced cave divers and has, since our original incursion, been the focus of some serious penetration efforts by Texas cave divers.
RANCH HOUSE
Northeast of Ward's Point in Evans Creek, it is marked by a buoy. When visibility is good, this is a fascinating dive into recent history. It is a single-story house from the thirties, complete with windows and fireplaces but missing a roof so you can see it all without getting into an overhead environment. Although there are a few small and uninteresting structures where you can end up with a ceiling above your head, there is no reason at all to go inside them, even if you are trained in cave diving.
Diver-down flag must be displayed while divers are in the water except in the scuba cove.
Diving prohibited in the marinas, protected swim areas, near the Amistad Dam or near the two submerged dams in the Devil's River, and in the Rio Grande below the dam from the stilling basin up to and including the Weir Dam.
All archaeological artifacts, historical items, and natural features are protected by federal law and must be left undisturbed.
Divers must have a Texas fishing license to spear in U.S. waters and a Mexican license for the Mexico side of the lake.
No game fish such as bass, catfish and walleye may be speared, only rough fish such as carp, buffalo, drum, suckers, shad, goldfish, Tilapia (African Perch) and gar.
Boats must stay clear of all protected buoy areas and at least 100 feet from diver-down flags.
Last Updated: October 26, 2012