Statue of Liberty to Reopen July 4

The Statue of Liberty will reopen to the public on July 4, 2013. Tickets and reservations are now available through Statue Cruises, including limited tickets to the crown and pedestal through the summer. More »
News
NPS PHOTO
The Statue of Liberty and Liberty Island will reopen July 4, 2013.


Please call 718-354-4741 (landline) or 646-285-8664 (mobile phone, answered during regular working hours). You can also send an e-mail if you have specific questions.
News and Media Contact
Please email the Public Affairs office with any requests for media access or fact checking concerning the reopening of the Statue of Liberty and Liberty Island on July 4. No land lines yet work at our offices; the cell phone is 917-829-0425.
Plan Your Trip
For information about ferry tickets, schedules, limited tickets to the crown and to the pedestal and other trip planning items related to traveling to and from the island, please visit the Plan Your Visit section.

Fact Sheets
Ellis Island Fact Sheet
Statue of Liberty National Monument Fact Sheet
Visit All the National Parks of New York Harbor
For all the news of National Parks of New York Harbor their
news room
or our website at
www.nps.gov/npnh


Did You Know?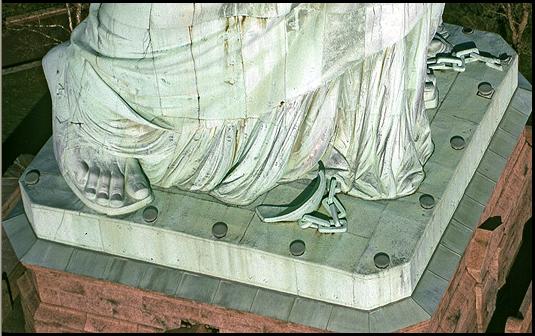 Freedom is not standing still.  A symbolic feature that people cannot see is the broken chain wrapped around the Statue's feet.  Protruding from the bottom of her robe, the broken chains symbolize her free forward movement, enlightening the world with her torch free from oppression and servitude.