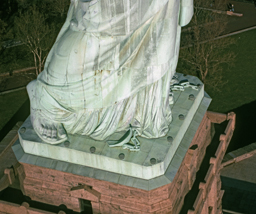 National Park Service, Statue of Liberty NM
With the abolition of slavery and the Union's victory in the Civil War in 1865, Laboulaye's wishes of freedom and democracy were turning into a reality in the United States. In order to honor these achievements, Laboulaye proposed that a gift be built for the United States on behalf of France. Laboulaye hoped that by calling attention to the recent achievements of the United States, the French people would be inspired to call for their own democracy in the face of a repressive monarchy.
When Laboulaye's Statue of "Liberty Enlightening the World" was completed, it not only represented democracy but also symbolized American independence and the end of all types of servitude and oppression. A broken shackle and chain lie at the Statue's right foot. The chain disappears beneath the draperies, only to reappear in front of her left foot, its end link broken. However, although the broken shackle is a powerful image, the meaning behind it was not yet a reality for African Americans in 1886.