Vehicle Fuel Available at Big Meadows ONLY!

Vehicle fuel is only available at Big Meadows (mile 52). Gas service has been discontinued at the Loft and Elkwallow areas.
Places To Go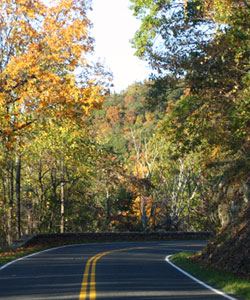 NPS Bob Kuhns
The first thing you will see when you arrive at Shenandoah National Park is an entrance station. During most times of the year, you will be greeted by a ranger who will take your
entry fee
and provide you with a
map
and other information about the park.
When you enter the park you will be on Skyline Drive and here the fun begins. Not only is this roadway an experience in itself, it is the route to all places of interest in Shenandoah. All along the Drive there are beautiful overlooks, designed to give you spectacular views.
In addition to a few stops along the way at your favorite overlooks, plan a stop at the visitor centers, bookstores, and exhibits. There are also lodges, restaurants, and gift shops. Big Meadows, right in the middle of the park, is a great place to spend some time and you will see hiking trailheads all along the Drive.
If you want to visit virtually, get to know Shenandoah National Park by clicking on Nature & Science and History & Culture. Take a web trip to other National Park Service areas by visiting nps.gov and the Web Ranger site.


Did You Know?

The most harmful exotic plants, animals and diseases in Shenandoah National Park include: chestnut blight, Dutch elm disease, dogwood anthracnose, gypsy moths, hemlock woolly adelgids, kudzu, mile-a-minute vine, Oriental bittersweet, and garlic mustard. More...