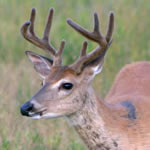 Shenandoah serves as a refuge for many species of animals otherwise pressured by human activities, development and other land uses. There are over 190 resident and transient bird species, over 50 species of mammals, over 50 reptile and amphibian species, and over 35 fish species found in the park. Only incomplete records of insects, spiders, and other invertebrates are available so the total number of different species of these groups is unknown. A handful of these species are large and conspicuous and therefore easily found by visitors. The park provides boundless opportunities for the public to search for and discover the thousands of other park residents.
---

Birds
(
Standard List
-
Customize Your List
)
Shenandoah National Park includes a wide variety of essential habitat for resident and migratory birds. More...

Butterflies are one of the better understood insect groups at Shenandoah. More...

Shenandoah National Park is home to more than 50 mammal species. More...

More than 35 species of fish have been found in the 90 or so mountain streams in the park. More...

There are a multitude of toads, frogs, salamanders and newts all living here in Shenandoah National Park. More...

More than 20 species of reptiles are found in Shenandoah National Park, including snakes, turtles, lizards, and skinks. More...
What is NPSpecies? How Does it Work?
NPSpecies is the ultimate consolidated database where you can find the latest information on any species, from any National Park Service unit. This resource lets you search for species information on specific parks and allows you to create your own itemized species lists. Click on the "Customize Your List" links above and use the proceeding instructions as a guide to help you create your customize species lists.
Once at the (https://irma.nps.gov/NPSpecies) custom report there will be a variety of options in pull-down boxes that will let you choose the categories of species you would like included in your list, there will also be options to select the way you want your species sorted or grouped. Once you make your selections, click on the grey View Report button. This will generate the report you have customized. From here you can either click on the large Print button at the top of the document to print, or if you want to save it, look for the blue and white floppy disk symbol with a green arrow on it, that can be found above the black bar on the document. Click on the icon to see the many different formats you can save your customized species list in. We hope this a useful way to better meet your needs and interests in Shenandoah National Park.
---
Those who explored the Shenandoah Valley and Blue Ridge Mountains in the early 1700s reported an abundance and variety of animals. As European settlers cleared the land, introduced domestic animals, and hunted native animals, the abundance and variety in species diminished. An unknown number of native species disappeared from the area, while populations of many other species dwindled. American bison were eliminated around 1798 and elk followed in 1855. Beaver and river otter disappeared in the late 1800s. Other species, including the eastern timber wolf, the eastern cougar, the white-tailed deer, turkey, black bear, and bobcats were either extirpated or declined drastically.
Fortunately, most of these species have now returned to the park either through re-introductions on lands elsewhere in Virginia or through natural population recovery. The designation and management of the area as a National Park provides refuge to both the resident animals and those that are passing through on their migrations.
Today, Shenandoah National Park is a great place to observe wildlife. Countless visitors spend hours watching deer snip and tear plants. Other people look for tracks and scat of bobcats, listen for the rustling of raccoons in the brush, and occasionally smell striped skunks. The grey squirrel, deer, groundhog, bear, and cottontail rabbit are more commonly seen mammals in the park.
Because close contact with people is frequent and hunting and trapping are prohibited, some animals appear almost tame. They are wild, however. Even beautiful brown-eyed deer will defend their young from harm. Their elegant legs are powerful and their hooves are sharp; facts some visitors insist on learning the hard way.
Select a Park:
Select a Species Category (optional):
Search results will be displayed here.

Visit NPSpecies for more comprehensive information and advanced search capability. Have a suggestion or comment on this list? Let us know.