Plan Your Visit
What Makes This Park Unique?
Hot, dry summers and cool, wet winters characterize the climate of the Santa Monica Mountains. These semiarid conditions, and the mountains' location in a costal, middle latitude, place the park in what is known as a Mediterranean climate. This is one of only five such regions in the world.
How Do I Get to the Park?
Check out the links to your left to get directions, find out about our operating hours & seasons, learn about fees and reservations.
What's in the park for me?
Are you looking for something specific or you just want to get orientated first and talk with a ranger? You can start planning your visit by checking out some of the popular things to do or visiting our Interagency Visitor Center at King Gillette Ranch.
Or maybe you just want to head out and explore the many park sites and locations. You can even download brochures of our park before you visit.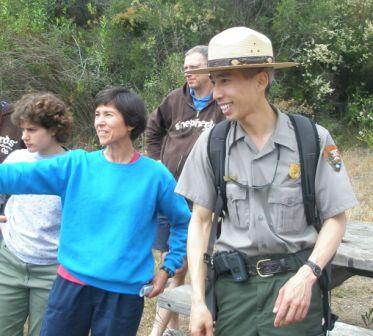 Hikes, Walks, Talks, Tours, Rides, and so much more...
There are so many things to do and see in the Santa Monica Mountains. Below are just a few.
OUTDOORS Calendar of Events is your main guide to activities can enjoy throughout the park.
The Satwiwa Native American Indian Culture Center hosts cultural programs and workshops throughout the year.
Camping in the Santa Monica Mountains is a great way to experience the park from the mountains to the sea.


Did You Know?

Santa Monica Mountains National Recreation Area was established in 1978, but the National Park Service did not own public parkland in the area until 1980. National Park Rangers devised clever ways to promote the national park goals without land by creating thriving partnerships with many agencies.