Horse Rentals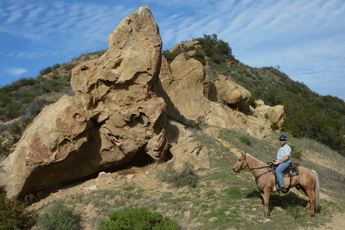 Listed below are the two NPS approved concessionaires for Santa Monica Mountains National Recreation Area that rent horses and give tours on NPS land.
Malibu Riders:
Malibu, Agoura Hills
818-510-2245 or www.maliburiders.com
Rocking K Horse Rentals:
Rancho Sierra Vista, Pt. Mugu State Park
805-499-9512 or www.rockingkhorserentals.com
Did You Know?

On June 13, 1980, Charlie Cooke, hereditary Chief of the Chumash and concerned citizens fulfilled a dream-- a place for families to explore our natural world and learn about the Chumash. Satwiwa in Newbury Park, CA celebrates the beauty of the mountains and all Native American cultures.