Hike #6 - Uphill Both Ways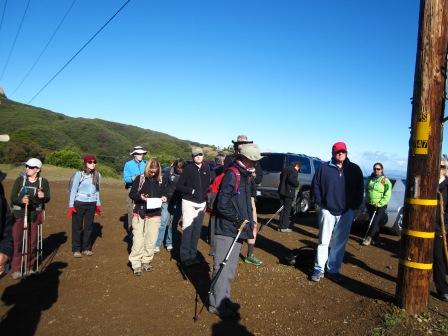 It sure has been a cold winter. Well maybe a cool winter if you're from a place that has snow. But for some of us on this hike that grew-up in or have lived in Southern California for a long time, it has been cold. After all, some of us moved out here to escape the "true cold" of other places such as the east coast; like my father.
"It's cold today," I remember saying as a kid during a wintry snap when the temperature dropped to a blistering 45 degrees. "Bah! You don't know what cold is. When I was your age, I had to walk to school uphill both ways, through the snow," my father reminded me. "We don't have snow here," I responded. "That's my point. You don't know what cold is," as he made his argument.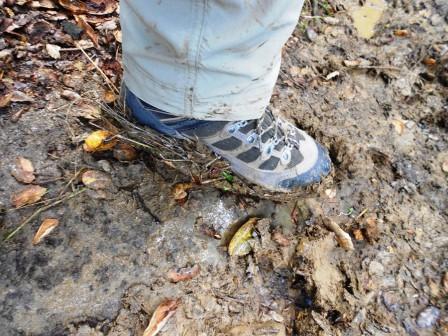 photo by stephanie shoemaker
In our Mediterranean ecosystem we don't often have snow; but we have hills and in the case of hike #6, we had mud! So hiking for nearly 7 miles up and down hills, this might be fairly comparable.
It rained quite a bit in the days and nights leading up to our hike. We thought - operative word thought - that the ground had sufficient time to dry out but in some sections we were wrong. Just take a look at the picture to the left of one hiker's shoe. Fortunately, the mud wasn't all at the beginning of our hike.
Mud aside, we are generally traveling west to east on the Backbone Trail. However, as the title may have given away, no matter which way you go on this segment (and like many others), it's uphill both ways.
photo by steven bakos
On this hike we elected to hike east to west for the sheer reason that it's less uphill going that way then the uphill going the other way. For you see, after completing 40 plus miles, we've become very familiar with the ridgeline of the mountains and even talked about their shape and formation in the last post.
Clean air, clear skies, and clouds that gave depth to the heavens and the earth, we began our hike just west of the Lois Ewen Overlook at the intersection of Stunt Road, Schueren Road, and Saddle Peak Road. The sign is not the easiest to see here and you'll have to look carefully along Stunt Road for the trailhead on the south side of the road.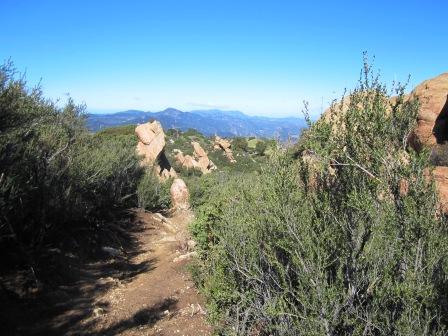 This section provides the uphill portion of our hike as eventually we will end up just south of Tapia Park on Malibu Canyon road. It's just over a mile on this part as we hike all the way up to one of the overlooks just below Saddle Peak.
Yet after the lookout, and as they say in the movies, it is all downhill from here. For a mile we hill switch backs that seem like they go on forever. Back and forth and back and forth. The area can be hard on the knees so the use of poles might be helpful or you can distract yourself with some very unique and strange geological formations intertwined with chaparral for as far as the eye can see. Looking closely at the photo to your left, you can see that we are looking west; towards the direction we came from months before. That high point way, way, way in the distance is Circle X Ranch. To think we hiked there on Trail segment #2 might make you nostalgic or even excited that there is a trail that runs from here to there.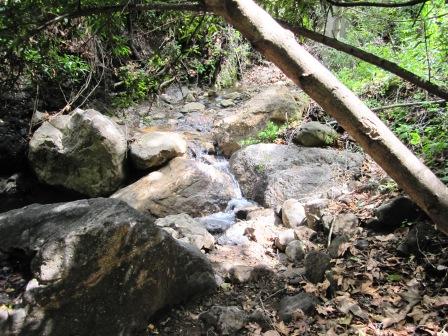 We took our lunch down in one of the intermittent water crossings about 1.5 miles later. A nice shady place on this segment (also known as the Saddle Peak Trail); we were surprised to see water flowing as much as it was. There are even tiny little cascades flowing over rounded boulders creating that sense of a babbling brook that you would find high in the Sierras or the Pacific Northwest.
While the water looked inviting to drink, it's the perfect opportunity to point out that you should NOT drink the water. We have a tiny protozoan called Giardia lambia that is found in our streams. One should never assume the water is clean and being infected with Giardia will make you very sick. Common symptoms include upset stomach, diarrhea, and nausea. If left untreated could lead to dehydration and even worse things than listed here. This is why it is wise to bring plenty of clean water with you.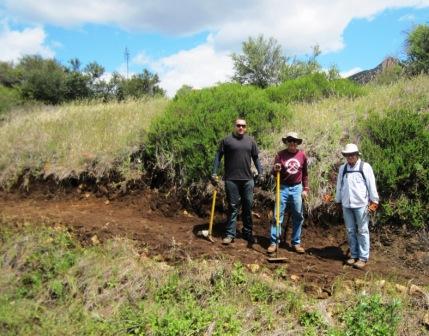 It was not until we got a little further down the trail that we came across a group of dedicated folks working on the trail from the Santa Monica Mountains Trail Council. The council is a volunteer, non-profit group whose purpose is to maintain and establish trails in the Santa Monica Mountains. In fact, many of the trail segments that we have hiked so far have been built by them, envisioned by them, and in this case, are still being maintained by them.
There are over 500 miles of trails in the Santa Monica Mountains that you can experience. If it wasn't for the commitment by these wonderful park volunteers, these trails would most likely be over-grown, damaged, and worst of all, unsafe.
After saying good-bye to our fellow trail enthusiasts, we crossed Piuma Road (after looking both ways of course - I can hear my father reminding me,) with just under 2 miles left to go. It was here that the mud from earlier really came into play as we came to the bottom of Cold Canyon.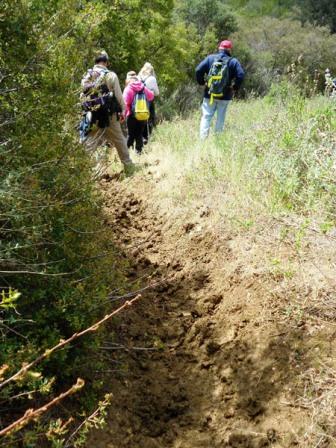 photo by stephanie shoemaker
We were now on the canyon bottom, crossing Cold Creek, passing the California Wildlife Center, and making our way out to Cold Canyon Road.
Once at the road, you must be careful as you then have to walk along the road, make a left onto Malibu Canyon Road and then carefully (looking both ways of course) cross in order to get to the parking lot just south of Tapia Park where we ended hike #5.
Upon arrival to our cars we took a look back up and saw the path we just came down. With the conditions in the last section we are glad we took the route we did because in the end, it's still up hill both ways through the mud.
------------------------------------------
Completed mileage so far is: 49.7
To learn more about the sections of trail we hiked, you can visit the information page by clicking the name of the section: Backbone Trail from Malibu Canyon to Stunt, Scheuren, and Saddle Peak Roads.
(Click here to return to the 2012 Backbone Trail Blog homepage.)