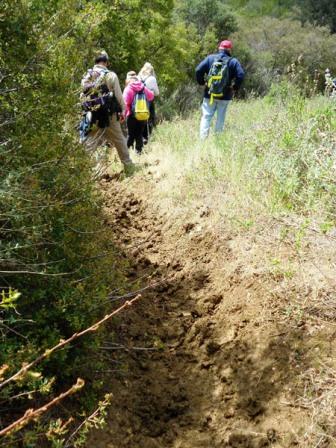 photo by stephanie shoemaker
We were now on the canyon bottom, crossing Cold Creek, passing the California Wildlife Center, and making our way out to Cold Canyon Road.
Once at the road, you must be careful as you then have to walk along the road, make a left onto Malibu Canyon Road and then carefully (looking both ways of course) cross in order to get to the parking lot just south of Tapia Park where we ended hike #5.
Upon arrival to our cars we took a look back up and saw the path we just came down. With the conditions in the last section we are glad we took the route we did because in the end, it's still up hill both ways through the mud.
------------------------------------------
Completed mileage so far is: 49.7
To learn more about the sections of trail we hiked, you can visit the information page by clicking the name of the section: Backbone Trail from Malibu Canyon to Stunt, Scheuren, and Saddle Peak Roads.
(Click here to return to the 2012 Backbone Trail Blog homepage.)