Backbone Trail Ranger's Blog
Connecting our parks together along the crest of the mountains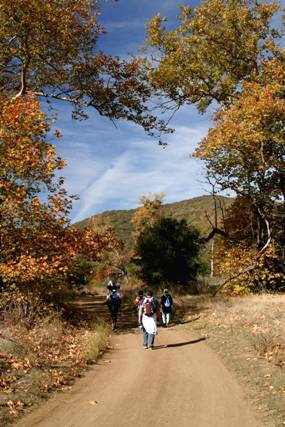 Photo by Jim Belsley
About This Blog
A group of over 30 dedicated hikers have set their sights on completing the Backbone Trail this winter. We will be hiking every 2nd and 4th Saturday from January through April - for 8 total day hikes until they complete all 69 miles of the trail!
We'll be exploring the park along the Backbone Trail, or BBT as it is affectionately called, a network of trails made up of federal, state, and other local parklands.
Visit the Backbone Trail Homepage and learn about the history of the BBT and how through partnerships we can connect our parks together along the crest of the mountains.
Follow their progress on the Backbone Trail Ranger's Blog by clicking the story links below.
Maybe next year this could be you!
Did You Know?

Unique vistas and cultural significance often draw filmmakers to National Parks. Paramount Ranch is the only place in the National Park System where you can see movie making in action at a historic movie ranch once owned by Paramount Pictures (1927).