2013 Fire Restirctions

Due to high fire danger, fire and smoking restrictions are now in effect on all National Park Service land in the Santa Monica Mountains National Recreation Area. For details, please download the public notice or call 805-370-2301. More »
Update on Park Closures

All NPS trails are open at Rancho Sierra Vista/Satwiwa! Currently, this park site is only open sunrise to sunset.
Backbone Trail Ranger's Blog
Connecting our parks together along the crest of the mountains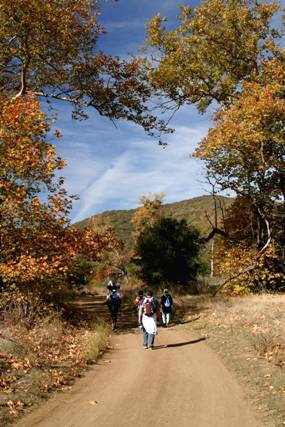 Photo by Jim Belsley
About This Blog
A group of over 30 dedicated hikers have set their sights on completing the Backbone Trail this winter. We will be hiking every 2nd and 4th Saturday from January through April - for 8 total day hikes until they complete all 69 miles of the trail!
We'll be exploring the park along the Backbone Trail, or BBT as it is affectionately called, a network of trails made up of federal, state, and other local parklands.
Visit the Backbone Trail Homepage and learn about the history of the BBT and how through partnerships we can connect our parks together along the crest of the mountains.
Follow their progress on the Backbone Trail Ranger's Blog by clicking the story links below.
Maybe next year this could be you!
Did You Know?

On June 13, 1980, Charlie Cooke, hereditary Chief of the Chumash and concerned citizens fulfilled a dream-- a place for families to explore our natural world and learn about the Chumash. Satwiwa in Newbury Park, CA celebrates the beauty of the mountains and all Native American cultures.