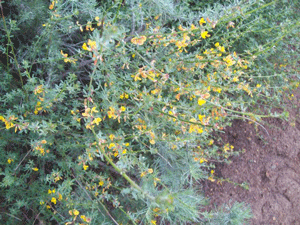 Plant Phenology
"Phenology…is perhaps the simplest process in which to track changes in the ecology of species in response to climate change" (Intergovernmental Panel on Climate Change (IPCC) Fourth Assessment Report: Climate Change, 2007).
Phenology: noun, The study of cyclic and seasonal natural phenomena, esp. in relation to climate and plant and animal life.
The Santa Monica Mountains is one of seven parks hosting a pilot program with the California Phenology Project to monitor plant phenology. Data is collected from 200 plants across the park weekly to observe life stages such as flower and fruit production, leaf growth, and pollen or seed dispersal.
The timing of these seasonal biological events can be critical to other organisms that depend on the stages in the plants' lifecycle (or, phenophases). Changes in timing of the phenophases, such as earlier fruiting or decrease in flower numbers, can be predictors or early warning signs of future 'phenological mismatches' between organisms. Tracking these changes in phenology will be useful to land managers as they try to predict which species will persist, or even thrive, and which will be lost under climate change.
For volunteer opportunities regarding phenology research including data collection or individual projects, fill out a volunteer application at http://www.nps.gov/getinvolved/volunteer.htm and specify Santa Monica Mountains NRA as the park you are interested in.
Resources:
- Maps for the Santa Monica Mountains
- List of Plants Monitored at Santa Monica Mountains National Recreation Area
- California Phenology Project at Santa Monica Mountains National Recreation Area