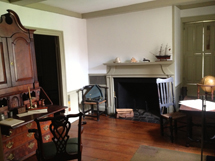 NPS photo
During the 1750s and 1760s, Elias Hasket Derby was a rising young merchant, the second son of one of the most successful merchant-captains in pre-revolutionary Salem. Acting as what today we would consider a junior partner in his father's merchant house, Hasket (as he was known to his family) handled correspondence and trading voyages most likely from his father's counting house.

However, just as marriage and moving into a home of his own established Hasket as an adult member of Salem's 18th century society in 1762, the establishment of his own counting house, a business office where his ledgers and correspondence could be kept, meant that he was an independent merchant. A counting house also meant that he had space to employ a clerk, who could keep the books and write correspondence.
Although we don't know precisely what year Hasket established his own counting house, 1784 is a strong possibility because his father died in 1783, and it took some time to settle the estate.
Hasket had owned a warehouse on Derby Wharf since 1765, a 23 foot by 60 foot three-story building whose short end fronted the south side of Derby Street near the head of the wharf. Between May and November, 1784, Hasket had a chimney and hearth installed in the building, and at least part of the interior lathed and plastered. This would indicate that the warehouse was meant to have people in it on a regular basis, since warehouses did not normally have heat.
The best evidence that we have as to the location and description of the building comes from the diaries of Rev. William Bentley, a local minister. On September 24, 1789, he noted "Mr. Derby has repaired his store at the head of the wharf,& glazed the front, so as to give it a very improved appearance . . ." The installation of windows in the Derby Street side of the building is supported by a receipt for "making two window frames and sashes" in the Derby Papers.
Bentley also tells us where the counting house was located on May 7, 1791. "Last night an attempt was made to break open the stores of Mr. Gray and E. H. Derby. . . . At the last, entry was made by the western door, by forcibly breaking the bolt from the lock. They then went upstairs, & had taken a pane of glass from the counting house door, when the light they had was espied by a guard . . ." Thus, we know the counting house was on the second floor, but walled off from the rest of the floor and with a door that had glass in it.
The furnishings of the room were probably quite simple; a desk, tables, chairs, and a bookcase either on top of the desk or separate to store ledgers and papers.