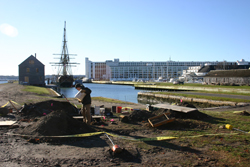 Photograph by Andrew Sewell, Hardlines Design Company
The possible existence of foundations of the counting house had been determined by National Park Service archaeologists using ground penetrating radar, and so Salem Maritime applied for recreational fee funding to support an archaeological dig on the site. Once funding was approved, the National Park Service asked for bids on the project and selected a contractor. In August and November 2012, Hardlines Design Company conducted archaeological digs on the site of the counting house, cleaned and cataloged the artifacts they found and produced a report summarizing their findings. An electronic copy of the full report is available in the further reading section of this page.
The findings of the archaeologists firmly support the documentary evidence about the building. At the top, they found layers of twentieth century fill, probably placed by the National Park Service to even out the grade of Derby Wharf. Below that, however, they found several layers of earth and artifacts that dated to the eighteenth and nineteenth centuries.