Contact Us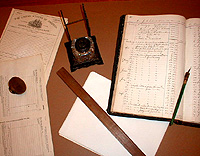 NPS photo
Visitor information:
978-740-1650
978-740-1654 (fax)
Emergency Weather Line:
978-740-1682

Directions | Press & Media Inquiries | Email the Park

Park Mailing Address:
160 Derby Street
Salem, MA 01970

Regional Visitor Center
Mailing Address:
2 New Liberty Street
Salem, MA 01970
Using the Park for Special Events
Learn about Special Use Permits.



Did You Know?

In 1799, Salem native Nathaniel Bowditch revised John H. Moore's New Practical Navigator, the standard navigation manual of the 18th century. Bowditch discovered and corrected over 8,000 errors in Moore's manual! In 1802, Bowditch published the New American Practical Navigator.