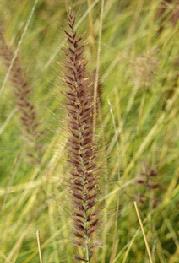 TNC.org
How to Identify Fountain Grass
Fountain grass grows in dense clumps 2 to 3 feet tall. Attractive pink or purple bottle brush flowers are seen on green plants. The bunchy plant and bristly seed heads both turn a light tan color when dry. Although it is a close relative of buffelgrass, it has a much neater appearance. The individual grass blades are straighter, less branched, and not as scraggly. Download a fountain grass identification sheet
When the plant is dormant, it's easy to confuse it with deer grass (Muhlenbergia regens), which has much thinner leaves and a narrower flower head.
How you can help
Don't plant fountain grass and if you have it in your yard, please remove it. If it grows in your neighborhood, enlist the help of your neighbors. Organize a neighborhood Saturday clean-up event. If you see fountain grass for sale at a local nursery, speak to the manager about your concern. Nurseries may offer "sterile" plants, which are not really sterile, they are just unsuitable for deliberate propagation; these plants still produce a small percentage of viable seeds that can escape and harm our desert.
If you see fountain grass in the park, tell us, but don't pull it. If you have a camera and/or GPS, take a picture and record the coordinates (UTM coordinates are preferred). E-mail your information to sagu_invasive@nps.gov.
Willing to make it your mission? Monitor and remove fountain grass as a Weed Free Trails volunteer.