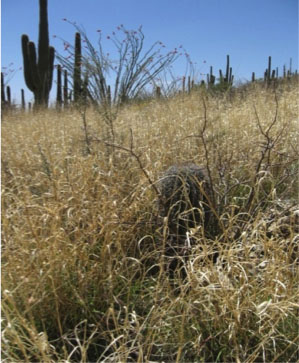 Aerial treatment of buffelgrass is concluded for 2014:
Between August 19 and 24, approximately 250 acres of dense buffelgrass were treated using a helicopter. Ninety vegetation monitoring plots were installed prior to the aerial treatments. Park scientists are monitoring the impacts to buffelgrass as well as to native vegetation. The results from the first year of monitoring data will inform decision makers as they adapt and update the planned actions for future years.
The Plan to Fight Buffelgrass and Restore Native Habitat
The Restoration Plan is part of the environmental compliance required for restoration activities within park boundaries, and outlines the recommended action to reduce the threat of invasive plants, as well as recommended actions to restore park land in case of floods, fire, or other large scale changes to the landscape which require mitigation against further damage.
After an experimental demonstration project in 2010, the park initiated the process to conduct helicopter application of herbicides. The compliance process took several years of research, public meetings, and interviews. The Restoration Plan and Environmental Assessment was approved with a Finding of No Significant Impact (FONSI) and signed by Sue E. Masica, Regional Director for the Intermountain Region of the National Park Service.
2014 was the first year that aerial treatment of buffelgrass took place, during the week of August 18. Over 250 acres of buffelgrass infested land were treated. There was evidence of die back within a few days of treatment, and monitoring will continue to inform future park decisions regarding aerial treatments. It is expected that some areas will take years of retreating to restore native vegetation and improve wildlife habitat.
What is the Restoration Plan?
The Restoration Plan describes management actions to restore native vegetation and mitigate negative impacts to park lands from damage caused by fire, flood, invasive species, or other human causes. The EA, which was available for public review and comment for 30 days, included an analysis of the proposed alternatives, and identified and compared their potential environmental impacts. The FONSI took this assessment and public comments into account, and accepted the preferred alternative, which includes all of the techniques the park has been using to date, and allows for aerial (helicopter) delivery of restoration treatments to sites that are not accessible by ground crews.
You can review the Restoration Plan, Environmental Assessment and FONSI by clicking the links below.
The Invader
Visitors from around the world arrive at Saguaro National Park anticipating a breath-taking view of giant cacti and a prime example of Sonoran desert plants and animals. This splendid landscape is threatened by invasive plants, like buffelgrass (Pennisetum ciliare). Buffelgrass, native to Africa, was brought to the U.S. for cattle forage and erosion control in the 1930s. Its rapid and aggressive growth crowds out native plants, alters wildlife habitat, and increases the risk of wildfires. Buffelgrass-fueled wildfires burn very hot, spread rapidly, and are capable of destroying cactus and wildlife alike, changing the Sonoran Desert as we know it.