Sculptor-in-Residence Program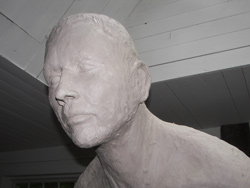 Each year Saint-Gaudens National Historic Site offers an artist the opportunity to serve as sculptor-in-residence. Because of the nature of the site and the position, this artist residency is specifically for figurative sculptors.
The sculptor serves an important role in the Site's interpretive program, allowing visitors to see how an artist works, ask questions, and thus learn something about the sculptural process. For this reason, while the sculptor works on his/her own art, it must be representational in form, either in the round or in relief, using the same basic techniques as Saint-Gaudens (1848-1907), i.e. working with clay and casting in plaster.
The artist should have a thorough knowledge of the lost wax casting process in order to explain this to visitors. The sculptor also conducts a series of half-day sculpture workshops for adults and older children. With extensive visitor contact, it is very important that this person be very comfortable interacting with the public.
This position is a wonderful opportunity for sculptors. Not only does the artist have the chance to spend the summer working on his/her art and receive excellent public exposure, they do so in one of New England's most beautiful and culturally significant settings.

The sculptor-in-residence is a paid position, 40 hours a week from late May through late October. The position is usually advertised in January or February of each year on the usajobs section of the www.OPM.gov web site (www.usajobs.gov Applications are done on line through that site. Interested sculptors should contact the park in January to see what the status of the position is for the coming year.
For more information, specific questions, or to be alerted when the position is advertised, please contact Gregory Schwarz, Chief of Interpretation, at (603) 675-2175 x107.
Did You Know?

Augustus Saint-Gaudens was the first sculptor to design an American coin. The $20 gold piece he designed in 1907 at the request of Theodore Roosevelt, is considered this country's most beautiful coin and is called a "Saint-Gaudens" by coin collectors.