Pets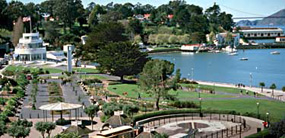 NPS Photo
Dogs on leashes are welcome in the Aquatic Park Historic Landmark District, except they are not allowed on the beach.
Dogs are not allowed on Hyde Street Pier, or on the historic ships.
Thank you for your cooperation.


Did You Know?

The Aquatic Park Bathhouse building, a Depression-era, Works Progress Administration (WPA) project, was completed in 1939. The art deco building includes tile mosaics of fish, marble floors that resemble a sea chart, and interior walls painted with murals depicting strange creatures of the deep. More...