Ferryboat EUREKA closed for maintenance.

Ferryboat EUREKA is closed for maintenance. The gangway that links the ship to the pier is being repaired.
Pets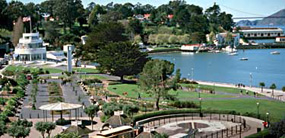 NPS Photo
Dogs on leashes are welcome in the Aquatic Park Historic Landmark District, except they are not allowed on the beach.
Dogs are not allowed on Hyde Street Pier, or on the historic ships.
Thank you for your cooperation.


Did You Know?

Wheat -- California's other Gold Rush. The discovery of gold in 1848 brought sudden wealth and population growth to San Francisco. But wheat, California's golden grain, and first major export product, established San Francisco Bay as a port for world trade. More...