Ferryboat EUREKA closed for maintenance.

Ferryboat EUREKA is closed for maintenance. The gangway that links the ship to the pier is being repaired.
Pets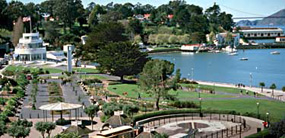 NPS Photo
Dogs on leashes are welcome in the Aquatic Park Historic Landmark District, except they are not allowed on the beach.
Dogs are not allowed on Hyde Street Pier, or on the historic ships.
Thank you for your cooperation.


Did You Know?

19th century San Francisco was a hard drinking town. The sailing ship Balclutha helped quench that thirst by delivering cargoes containing Scotch whiskey, Dutch bitters, French vermouth and ales and liquors of all kinds. More...