Hyde Street Pier Closed Mondays through Thursdays (July 24 - August 20)

For public safety, Hyde Street Pier will be closed mid-pier Mondays - Thursdays from July 24 - August 20 during replacement of Eureka's mooring piles. There is no access to the historic ships. The visitor center, Maritime Museum & Aquatic Park are open. More »
Pets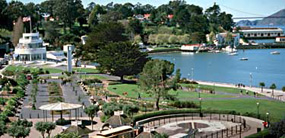 NPS Photo
Dogs on leashes are welcome in the Aquatic Park Historic Landmark District, except they are not allowed on the beach.
Dogs are not allowed on Hyde Street Pier, or on the historic ships.
Thank you for your cooperation.


Did You Know?

The spar extending from the bow of the 1895 lumber schooner CA THAYER, is 59 feet long, with its rigging weighs 8,500 pounds, and is made of a single piece of Douglas fir. More...