Pets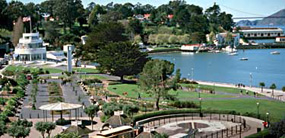 NPS Photo
Dogs on leashes are welcome in the Aquatic Park Historic Landmark District, except they are not allowed on the beach.
Dogs are not allowed on Hyde Street Pier, or on the historic ships.
Thank you for your cooperation.


Did You Know?

Loading ports are small, watertight doors in a ship's hull that lead directly into the hold. Lumber could be more easily loaded into the hold through these ports rather than through the smaller hatches on the deck. These ports had to be caulked shut before the ship put to sea. More...