Ferryboat EUREKA closed for maintenance.

Ferryboat EUREKA is closed for maintenance. The gangway that links the ship to the pier is being repaired.
Pets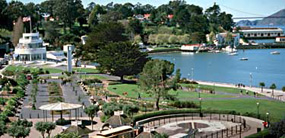 NPS Photo
Dogs on leashes are welcome in the Aquatic Park Historic Landmark District, except they are not allowed on the beach.
Dogs are not allowed on Hyde Street Pier, or on the historic ships.
Thank you for your cooperation.


Did You Know?

San Francisco Fire, 1906. A painting by William A. Coulter. The "Great Earthquake" shook the city at 5:12 am on Wednesday, April 18, 1906. William A. Coulter, a maritime artist and journalist, painted this scene on a ten foot wide window shade that he pulled from a demolished bank building in the rubble of the still-burning city. More...