Things To Do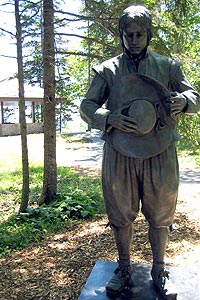 The site is focused on establishing a quiet atmosphere of respect meant to promote contemplation of the heroism and suffering of the French colonists in 1604–05.
Wander along the short, accessible interpretive trail at the mainland site. The trail features bronze figures of the French settlers and Passamaquoddy people, as well as wayside exhibits that discuss historical events and the interaction of the two cultures. A model of the 1604 French settlement sits under a shelter overlooking the island.
From mid-June through mid-September, participate in short ranger talks about the history of the settlement.
Visits to the island itself are not encouraged due to its fragile nature. The mainland site provides scenic views of the island and the Saint Croix River.


Did You Know?

There are no visible traces of the early settlement left on Saint Croix Island, today part of Saint Croix Island IHS. When the decision was made to move the expedition to Port Royal, most of the buildings were dismantled, put onto the ships and moved and erected at the new site.